2020-21 sports wrap-up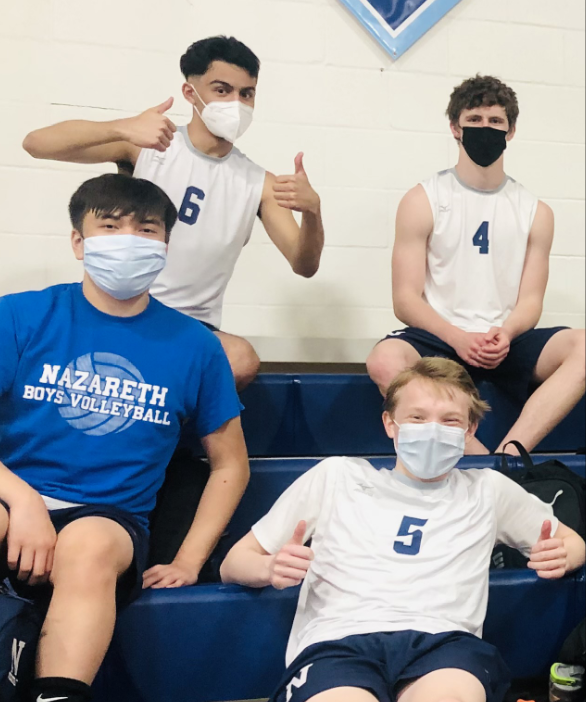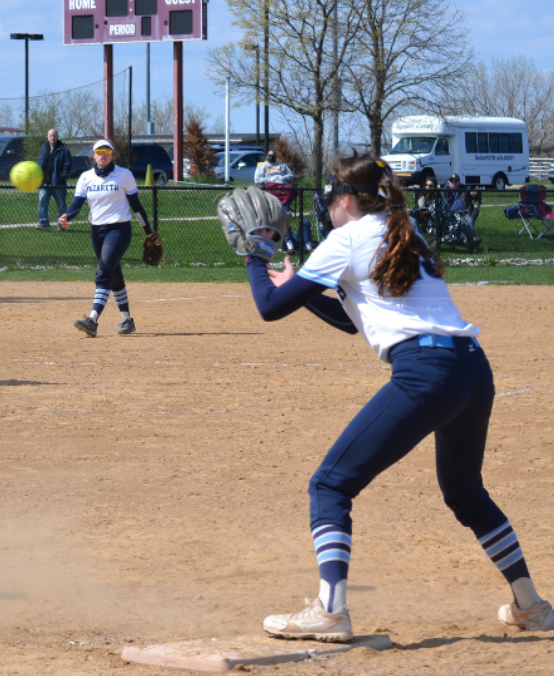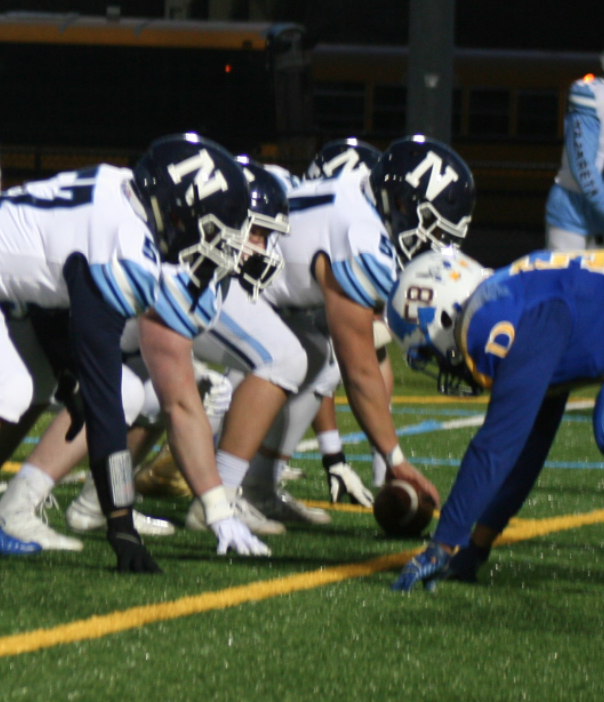 Cross Country (boys) The team had a great season this year. Graduating seniors Brendan O'Brien, Jack O'Brien, Jalen Reed, and Roy Nunez all had a big role in leading the younger runners. The O'Brien brothers, along with sophomore John Mowrer qualified for sectionals. Brendan O'Brien also finished as an All-Conference runner. The Frosh-Soph team also finished 2nd in the conference which promises a strong future for the cross country team.
Cross Country (girls) This was an incredible year-the girls posted their first ever perfect score against Marian Catholic. They also tied their best ever finish with a placement of 3rd in the conference. Sophomore Colette Kinsella, Freshman Sam Rozmus, Freshman Hannah McCarthy, and Freshman Jane McNamara all earned All Conference. There were many freshmen who stepped up to the challenge like Rozmus, McCarthy, and McNamara. Senior Megan Henehan said, "The freshmen were not only super talented runners, but joined the program and gave it their all even though I can only imagine how scary it was for them." The team finished 4th at Sectionals, where Kinsella was a medalist.
Football This unique season offered an opportunity for more student athletes to play. Coach Tim Racki said, "We played every player on our roster in each game. Due to the pandemic and year-long shutdown and only parents and a handful of students able to attend games, we believed it was the right thing to do." This football season was highlighted by two dominating wins over St. Laurence and De La Salle and one close but tough loss to Marist. 
Golf  (boys) Amid a crazy year where there were fewer tournaments, no State final, and fewer players allowed, the team still excelled. The season was highlighted by winning the St. Laurence Invite and finishing second in the Naz and Prospect Invites. Senior Josef Keivan led the way with finishing as a medalist or co-medalist at all six invites. Seniors Matt Winters, John Berger, Connor Devine, Danny Metzger, Luke Gaffney and Noah Holstrom as well as juniors Robert Paxinos, Jack Wheeler and Tommy Waldron all shot low scores in various events which were crucial to the team's success.
Golf (girls) Along with a record number of girls trying out, the team had a fantastic season and qualified for Sectionals. The team was led by junior Lydia Breslow who finished 4th place at Regionals. With no graduating seniors and many promising current players, the team is looking forward to next season where they can compete for a state championship.
Soccer (boys) This season was a learning experience for the boys soccer team, going 2-11-1. Though the season could have gone better, there were still bright spots with more than a few outstanding players.  For the second year in a row, senior Michael Jozwiak was the team's leading scorer. Jozwiak also finished as an ESCC All-Conference player, while junior Owen Almer earned IHSSCA All-Sectional and junior Alex Gamboa earned IHSSCA All-Sectional Honorable Mention. The season was highlighted by an upset win over Riverside Brookfield who was undefeated up until that point during the season. 
Tennis (girls) The team finished 3rd in the Conference and 2nd in Sectionals. Senior Gabby Walsh placed 2nd at #1 Singles in the ESCC along with the duos of Senior Mia Schabow/Junior Brigid Anderson and Senior SJ Weidner/Sophomore Mackenzie Hyland finishing 4th and 2nd place. Weidner and Hyland were even named ESCC Doubles Players of the Year. Weidner gave a lot of credit to  her sophomore teammate. She said, "She's also an insane athlete and has really powerful shots and serves that I could never hit in a million years." Weidner is graduating this year, but is glad that her final year was highlighted by a second straight year of qualifying for State.
Volleyball (girls) The team placed fourth in the Conference and had a fantastic season. Senior Izzy Decker led the way and played along with rising star freshman Lauren Salata who played setter and right side. Salata's great first season is certainly a sign of a bright future. Senior Alice Hamilton said, "Being a senior on the team was all about leadership. We wanted to make our last year count so we did everything we could to make that happen." The team finished top five in the Conference.
Cheer The Cheerleading team had a shorter season, but were still able to cheer on the sidelines for the football team. The team of 19 consisted of 7 seniors including captains Julissa Martinez and Makayla Degnan. Junior Brenna Quirin shared, "I loved how close our team was this year. We had amazing team bonding, time for us to be like sisters! The team will miss all the seniors leaving, but we are excited for next year when new talent will be arriving."
Pom & Dance This unique year did not affect the Pom and Dance team in a negative way. This season was highlighted by an incredible feat: The team was able to put together a two and half minute dance in just two weeks. Although they did not make it to State, they still managed to beat four other teams at Sectionals. The team is also proud of seniors Grace McGovern and Mary Calabria for being named All-American dancers.
Basketball (boys) This basketball season was up and down, but there were still sparks from sophomores Zach Hayes and Anthony Cullotta. Junior Dominic Trelenberg also had a fantastic season and was named an All-Conference player. The season was highlighted by a 50-47 overtime thriller that resulted in defeating Saint Viator. The team will be losing seniors Noah Soenen, Mark Maschio, Willy Hamilton, Finnian McBride, and Will Cieniawski, but the future is bright for the team.
Basketball (girls) This basketball season for the girls was shortened and had no playoffs, but the team made the most out of it ending 8-4. The season was highlighted by an upset win over Saint Viator and a crushing 57-17 victory over St. Joseph in the season finale. The team will be losing senior Sarah Brongiel, but there are many freshmen spearheading the future of the team including Amalia Dray, who made All-Conference. Brongiel said, "This season really helped all the freshmen to acclimate to Varsity level basketball. You could tell by the end of the season that the freshman had gained so much experience and confidence that will carry over to next season and make the team even better." 
Wrestling This season should go well with four returning starters. Captains Javaughn Jossell and Zach Milos will be leading the team to victories along with Joe Urso. There are also two bright spots on the freshman team who are competing at the varsity level; Andrew Fowler and Jon Suter will be wrestling Varsity as freshmen. There are many signs that point towards a great season for the team.
Baseball This season has started out with a bang for the baseball team. The team started out 5-0 and is still playing phenomenally. Senior Wylder Guido and sophomore Lucas Smith have provided a lot of offensive spark. Pitching has also been a strong suit with great performances from many players such as seniors Ryan Smith and Joe Milano. They have certainly started out hot on the diamond and it will be fun to watch them the rest of the season.
Lacrosse (girls) According to Coach Michael Mossing, "The team is in a complete rebuild…The girls are working hard every day to improve and build a program from the ground up." The seniors are doing a great job of creating a program for the younger girls in the future. Highlights include Sophomore McCahey Hardy's great playing and her assist totals just keep going up. Senior Adriana Pirrello has been bringing in a lot of scoring as well. 
Soccer (girls) The girls soccer team has begun their season recently and is off to a strong start. In their first game, the team took down Niles West 2-1. Senior Adriana Berruti scored two goals while sophomore Colette Kinsella and freshman Nikolette Weiss each added an assist. In the second game, the girls faced off against Plainfield Central in a close win. Freshman standout Olivia Austin recorded a hat trick. The win was highlighted by a strong performance by senior goalkeeper Gillian Alberto. 
Softball The softball team started out with a bang, beating McAuley 7-6 in their opening game. Seniors Olivia Mardirosian and Emily Monahan are leading the team to victory. Mardirosian pitched her first start against nationally ranked Marist and held them scoreless for 5 innings and held them to just 2 runs. Monahan is leading the team with a .435 batting average and 10 hits and on the defensive side has had 29 total chances and 28 putouts with 2 double plays. 
Tennis (boys) Amid the rough start there is a bright spot in freshman phenom Ryan Nelson. Nelson has barely lost a game let alone a match. He is steamrolling over every opponent and proves that there will be great tennis for at least the next four years. The team is also led by #1 singles player sophomore James Theriault and senior Danny Metzger.  
Track and Field (boys) The team is looking good this spring, and senior Brendan O'Brien has already stepped up into a leadership role. O'Brien has been trying to be a leader to the underclassmen and said, "I've really liked trying to help younger runners not make some of the mistakes I made, it's also really rewarding to see our progress as a team." O'Brien and the rest of the seniors will be leading this team by example and hopefully through a successful season.
Track and Field (girls) The girls team has just started their season and is looking great. It is led by seniors Fiona Roach, Paige Barnes, Nathaly Galvez, and Bianca Ortiz. There are also many freshmen joining the team that will hopefully bring the team some fresh new perspectives. The team is excited to compete, set records, and have fun doing so.
Volleyball (boys) At the start of the season, growth was already evident. Junior Caden Hogan and freshman Hagan Perfect are new to the team, but have already made solid contributions. Perfect, a defensive specialist, has brought excellent passing and aggressive serving. Hogan has brought lots of height to the team and is a right side player. The team will be led by seniors Roy Nunez, Michael Olson, Conor Quinn, Ronnie Glas, and Joshua Jaculan.