2021-2022 sports wrap-up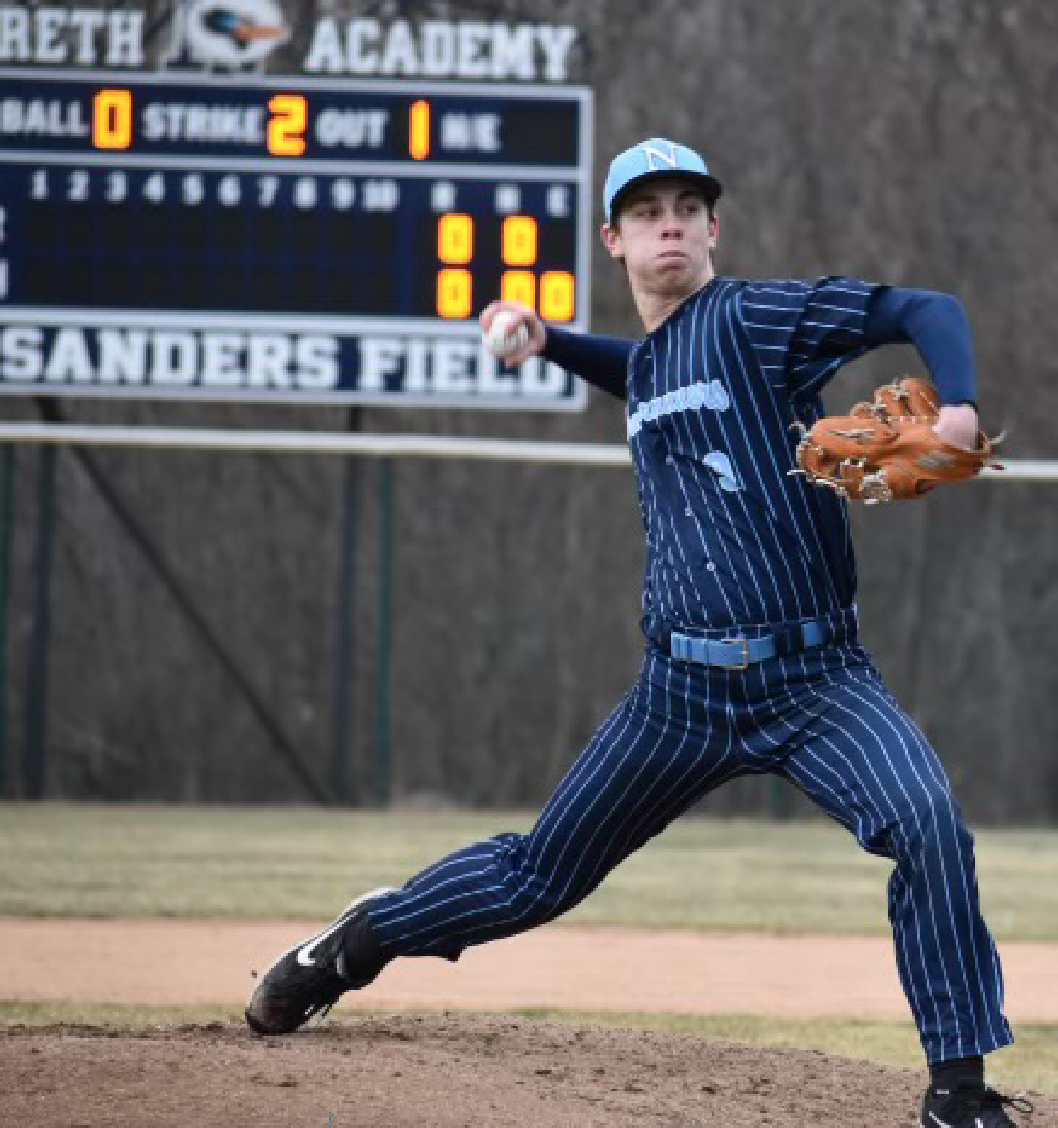 Baseball
The baseball team has started out hot. They quickly leaped to a 9-1 record to start the season and are still playing fantastic. They are ranked top 10 in the state by the Prep Baseball Report and ranked top 20 in the Midwest by the Perfect Game high school rankings. The team is loaded with talent, highlighted by five college commits including Sophomore superstar Nick Drtina who has already committed to the University of Louisville. Naz has started out with a spark on the diamond and will hopefully continue to light it up.
Boys Basketball
The team started off strong with a 5-0 record, and ultimately finished with a 19-14 record. They also brought home the Regional Championship to Nazareth Academy for the first time in 31 years. The team was led by a strong group of Seniors "who were not afraid to be leaders and hold their teammates accountable, while also being the first to congratulate and give credit to their partners," as Coach Pearson put it. Senior Dominic Trelenberg had a fantastic season, capped off by being named ESCC-All Conference. Additionally, Trelenberg was named the MVP of the John McBride Thanksgiving Tournament. Junior Kharon Cotton and Sophomore Talen Pearson were named ESCC Coach's Choice All Conference. By accomplishing feats that have not been achieved in over 30 years, this was truly a season to remember for Naz's boys basketball team.
Girls Basketball
Naz's girls basketball team had an incredible season that was capped off with a second place finish in the state of Illinois. The team finished with a 33-3 record, a school record. They also won the Hinsdale Thanksgiving Tournament, as well as winning their first ESCC Conference Tournament Championship. With few seniors on the team graduating and young stars like Sophomore Danni Scully and Junior Grace Carstensen, it should be fun to watch the team challenge for state again next year.
Cheer
This year's team was led by captains Senior Trista Greco and Junior Laelani Chapman. The team challenged themselves by attending larger competitions this year. According to Coach Darwish, it was a "season of both learning and growing." She also noticed a "growth in the performance of the team through their scores at competition." With many promising underclassmen and the start of a JV Cheer Team next year, the future is very bright.
Boys Cross Country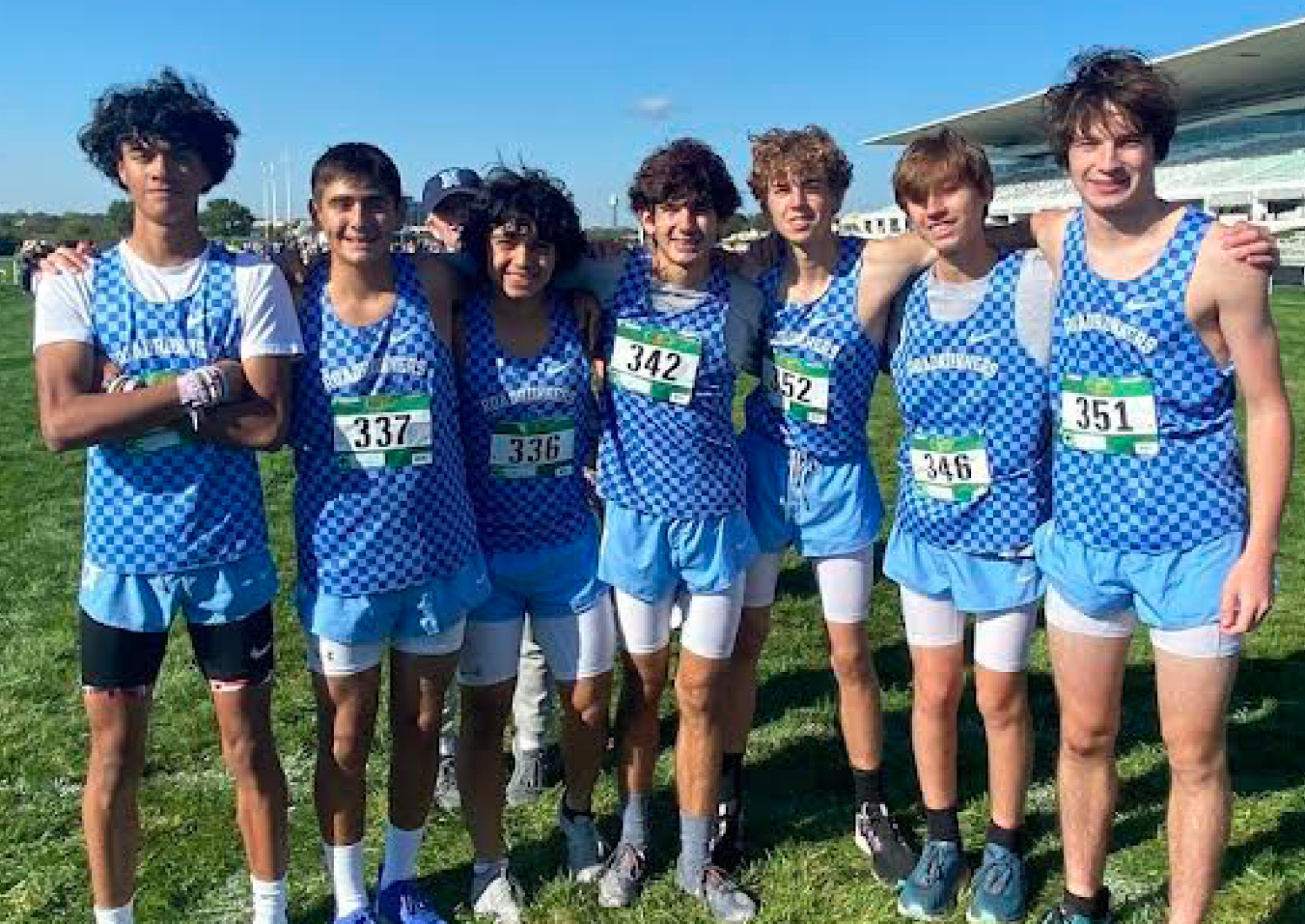 The boys cross country team welcomed Mike Sliwinski as head coach and the program showed great growth, including a large increase in the number of underclassmen joining the team. Coach Sliwinski said, "We are looking forward to the continued growth of all runners, as well as adding more runners to the program." The team had great success at the ESCC Conference Meet with freshman Daniel McGill placing 8th, sophomore Hagan Perfect placing 13th, and freshman Liam Smith placing 22nd. At the IHSA Regional, all seven runners who competed set new personal records including Junior John Mowrer who ran a 17:23 and freshman Dan McGill who ran a 17:25. 
Girls Cross Country
The girls cross country team had one of their most successful years ever. They started out by placing 5th in the First to the Finish Meet and then moved on to claim the first conference title since joining the ESCC, and first in any conference since 1993. Junior Colette Kinsella, Freshman Sarah Owen, Sophomores Jane McNamara and Hannah McCarthy were all medalists at the conference tournament. After their victory at conference, the team finished 2nd in the IHSA Sectional to gain a spot at the state meet. At the state meet they finished in 14th place and Kinsella earned her third state medal in three years by finishing 13th.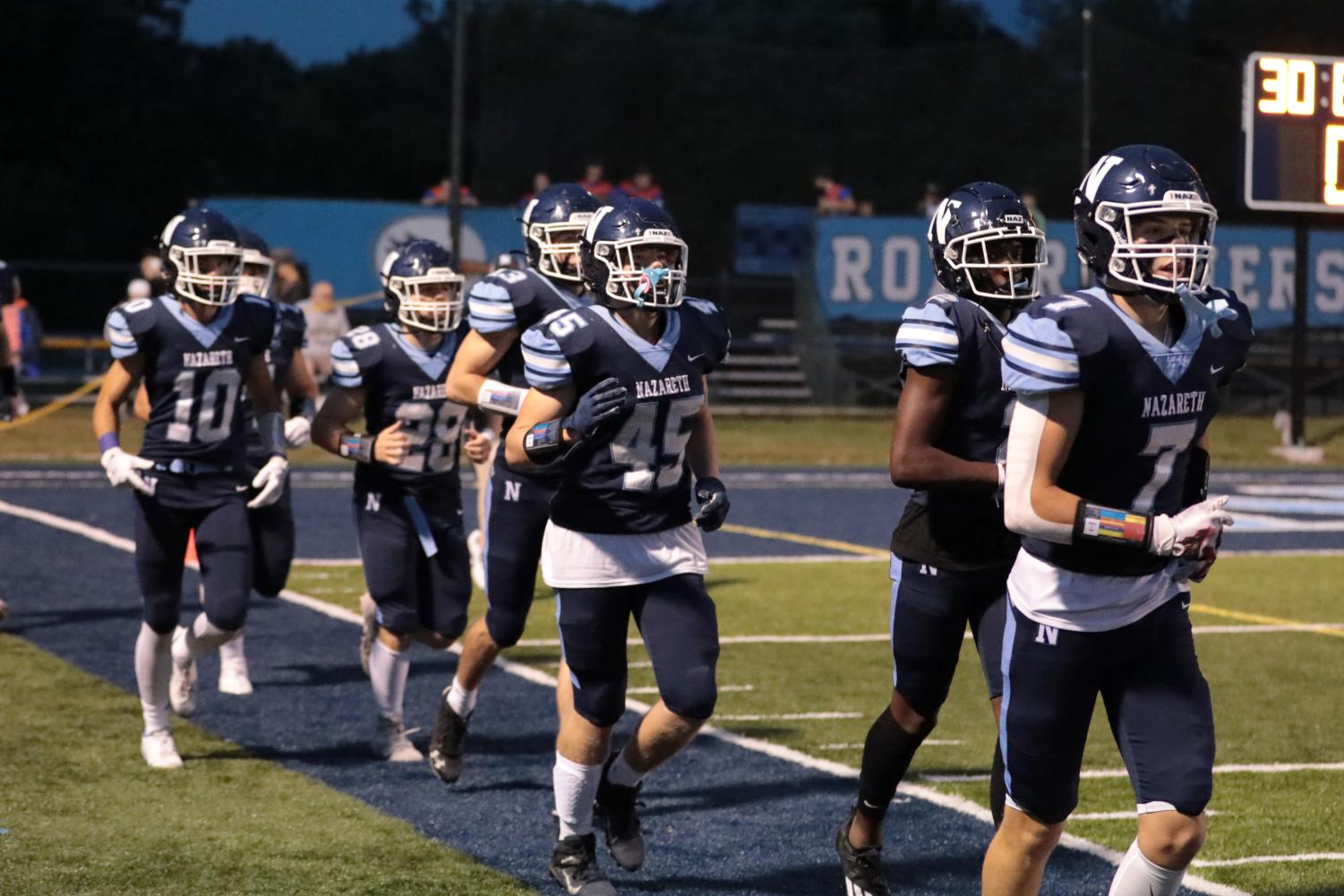 Football
Football had a very successful season this year that was capped off by making the IHSA State Playoff Quarterfinals. Many individual players shined in the spotlight. Seniors Quentrell Harris, Peter Roll,  Diego Vela, Juniors Kaleb Miller, Justin Taylor, Zach Hayes, and Freshman Gabe Kaminski were all named All Conference players. Harris, who excelled this year as a wide receiver, also made All State and was named the Conference Player of the Year. 
Boys Golf
The team ended the season with only one conference loss. Also, many individuals starred in their own right. Seniors Jack Wheeler and Robert Paxinos and Sophomores Jack Musker and Anton Marano were named All Conference Players. Wheeler, Paxinos and Juniors Jack Francis and James Mercurio qualified for Sectionals. Additionally, Paxinos medaled in many of the Saturday Invites. Overall, the season was a great success for Naz.
Girls Golf
The girls golf team's season was highlighted by the stellar play of Senior Lydia Breslow. Breslow, along with Freshman Maryssa Zienlinski, led the team to a 2nd place finish at the Rachel Gibson Invitational by earning individual medals. The team capped off a successful season by earning 4th place at the conference tournament. Breslow finished 5th place overall and was named All Conference. Also, Breslow and Junior Megan Kornafel made it all the way to sectionals.
Girls Lacrosse
The girls lacrosse team started out with a successful 6-3 start and haven't let up since. The team's success has been emboldened by the leadership and stellar play from their seniors. Additionally, Junior McCahey Hardy and Freshman Olivia Mowrer have been lighting it up on the field. There has been a lot of improvement from last year, including the record, and the program is certainly set up for long term success. "It's really exciting to watch the program grow and set up for more years of success," noted Senior Lillian Murphy.
Pom and Dance
Pom and Dance had a fantastic season that began with a bid to the UDA Nationals at UDA summer camp where junior Tatum Barbier, junior Kayla Lopez, and freshman Rosaria Ricchio were named All-Americans. Once the football season started, they kept up their stellar performance by providing some great performances on the field. During the competition season, they had numerous 1st, 2nd, and 3rd place finishes but ultimately the season's success culminated in making it to the State Finals for only the third time in school history.
Boys Soccer
The senior class had many players who found great success on the field this year. Senior Owen Almer excelled on the field as a forward and was named All-Conference. Almer scored 15 goals and recorded 8 assists. Senior Matthew Lannan was also named All-Conference. With 10 goals and 9 assists, Senior Alexandre Gamboa had a great season, and capped it off with a IHSSCA All Sectional Honorable Mention. Additionally, Junior Niko DiFoggio scored a whopping 17 goals and had 11 assists. Assistant Coach Dan Carlino praised Senior Ramon Perez. "He was in my opinion one of the most solid defenders in our area and one in charge of leading the ball possession out of the defense." The team had a season of ups and downs, but the senior class certainly showed up with some serious star power.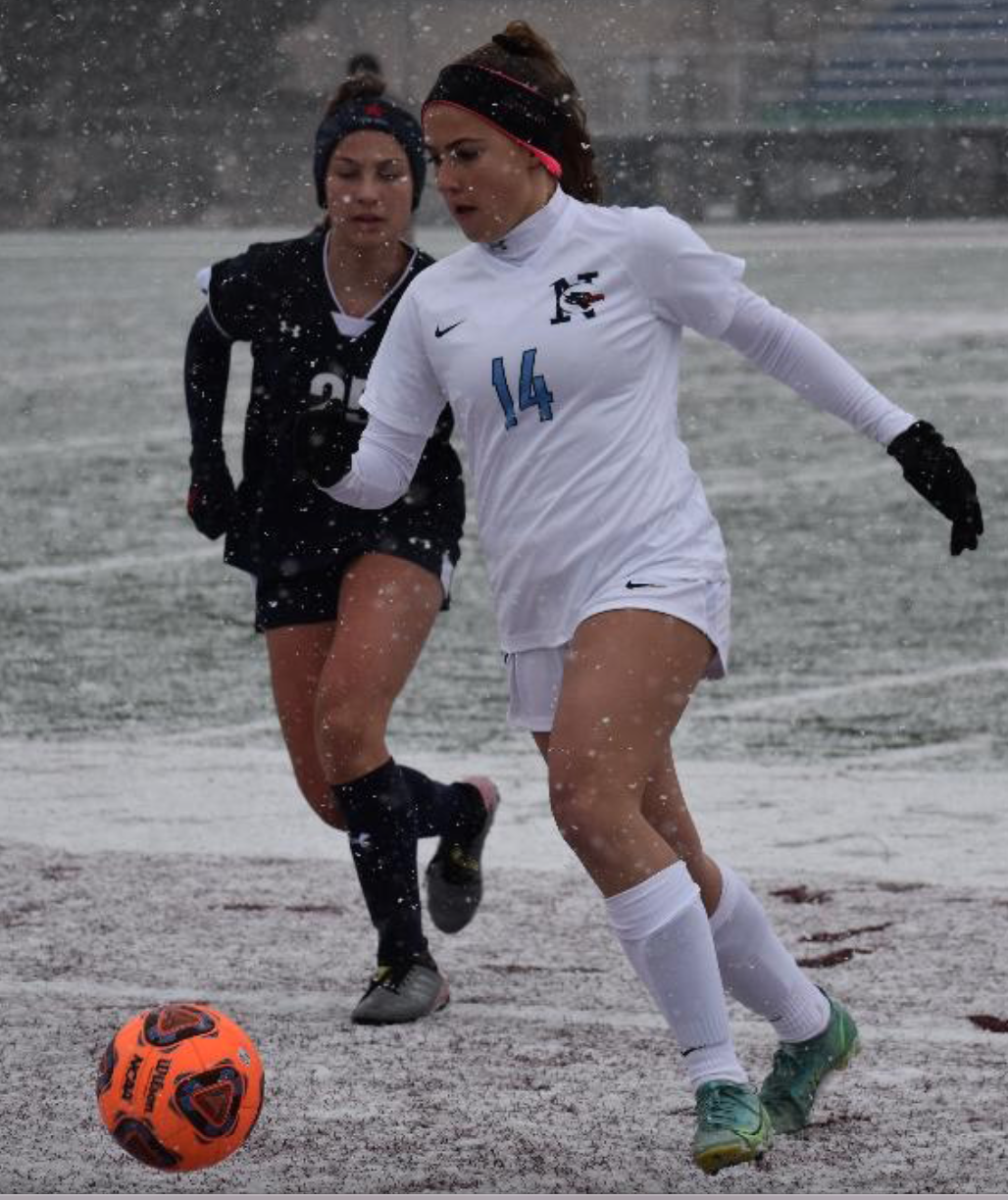 Girls Soccer
The team has had to endure through rain, sleet, snow, and lightning delays. They even had to end a close game with Saint Viator midway through the match due to snow. The season's bright spots included solid wins over Glenbard South and Lake Park. According to Assistant Coach Dan Carlino, the team has been integrating a new system and style of play with new head coach Roberto Cianci, and the team is adapting increasingly well to it. Sophomore Olivia Austin is leading the team with six goals under her belt, and Senior Lydia Breslow and Junior Ella O'Neill are right behind her with five goals apiece. O'Neill is also leading the team in assists with five. Goalies Junior Sophie Hynes and Senior Caroline Workman have been splitting time and have brought a solid defense to the team.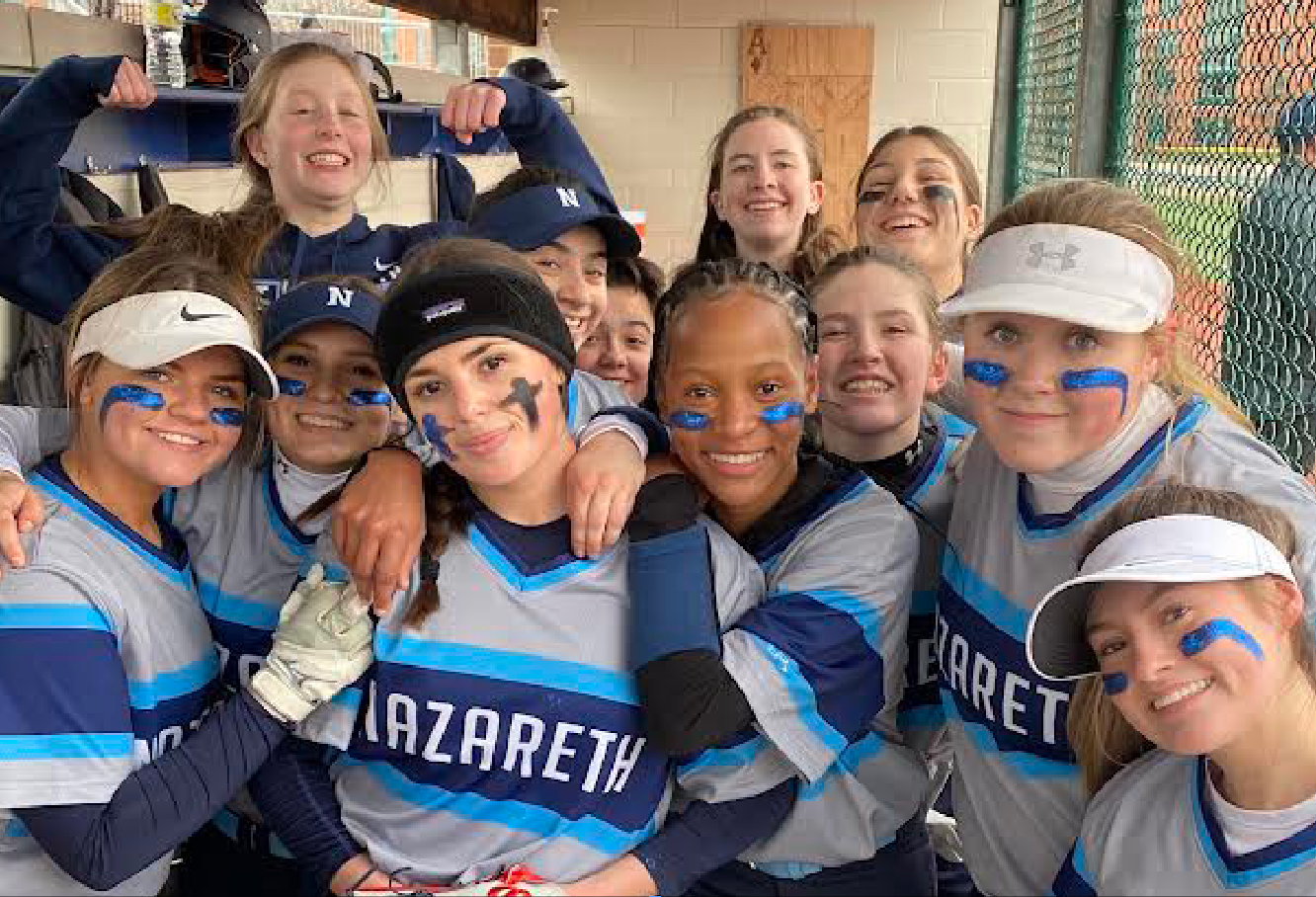 Softball
With only three returning varsity starters, the softball team is full of young players. Senior Allison Mangan, who is committed to Spring Hill College, leads the team with her fantastic play at centerfield and on the offensive side of the game with a .538 batting average, 2 triples, 2 home runs, 5 RBIs, and 15 runs scored this season. With the leadership of Mangan and other upperclassmen, young stars like Freshman Emme Barnes are taking the initiative. Barnes has a .375 batting average, 1 double, 2 triples, 2 home runs, and is leading the team with 15 RBIs. Other young stars include Freshman pitcher Annabella Rychetsky and Sophomore Taylor Reynolds. As this young team grows, they will become even more impressive.
Boys Tennis
The boys tennis team has enjoyed the star power of their two singles players, Senior Owen Almer and Sophomore Ryan Nelson. After the graduation of many former players last year, the boys tennis team is very young, but still has a lot of potential. A good chunk of their stellar play comes from their underclassmen, so the future is bright for the team. After finishing in second place in Conference last year and still maintaining many of their best players, it will be exciting to watch the team compete again as the season concludes.
Girls Tennis
The girls tennis team found lots of success on the court this year. They finished in second place at the Conference tournament. Among the highlights are juniors Mackenzie Hyland and McCahey Hardy going to compete at State. Although seven seniors will be leaving the program, next year and beyond is still bright with the help of Sophomore singles player Layden Almer and rising Seniors who will surely continue to bring their best to the game. 
Boys & Girls Track and Field
The season started off rough with terrible weather dominating many of their first meets including 30 degree temperatures, snow, gusts of wind, and other unkind conditions. But, this group of athletes kept showing up and performing no matter the weather. Junior Adrian Perez said, "We don't make excuses. We just put in hard work." On both teams there are standout athletes. Freshman Alayna Plahm is one of the top runners on the team despite only being a freshman. Junior Demario Angarita helped create the highlight of the season by breaking the Nazareth Academy record for the 600 meter dash. 
Boys Volleyball
Freshmen Hunter Creaney, with his defense, and freshman AJ Decker, with his offensive play style, have made an immediate impact in their first year. Coach Milligan said, "This is the strongest set of seniors I have seen in my eight years of coaching at Naz." This senior lineup includes setter David Valdez who has helped the team a lot with his leadership. Senior teammate Caden Hogan said, "Without him, we wouldn't be able to get our hits down and win games." The team has set the Nazareth record for most wins in a season and it will be exciting to watch them the rest of the season.
Girls Volleyball
The team made history by becoming the first female sports team to win the IHSA State Championship. The team includes Seniors Gillian Grimes, Abby Reid, Ivy Schoditsch, Laila Mularski and Kathryn Hurta who was named the Gatorade Illinois Player of the Year, reflects on the experience. "It was such an amazing experience to see all the team's hard work pay off when we won," Hurta said. She also added that she was "very grateful to have been a part of a team that made history."
Wrestling
 The team excelled this year with six wrestlers qualifying for Sectionals; Senior Javaughn Jossell, Senior Zach Milos, Senior Joe Urso, Sophomore Brendan Flanagan, Sophomore Scott Creviston, and Freshman Gabe Kaminski. Additionally, Kaminski finished 2nd at the State Tournament. Milos also won the Lisle Tournament for the third time and was named the Outstanding Wrestler of the Tournament.