100+ wins for Carrillo and Gurley
Update: Wrestlers competing at State – Alex Carrillo, Jackson Fowler, Josh Fowler, Robert Gurley and Elijah Pesek. Alternate Javaughn Jossell and sectional participant Joe Urso
Senior Alex Carrillo was first introduced to wrestling when he was just 5-years old when he came upon a flyer for Force Wrestling. He thought it would be like WWE wrestling, but it turns out, it was just the beginning of his long successful wrestling career.
The Announcer caught up with Carrillo to talk about the team's sectional championship and his personal success having won over 100 matches. Carrillo said, "I'm so grateful to be a part of this team and to be a part of such a hardworking group of guys." 
No stranger to success, Carrillo has competed at state all four years of his high school wrestling career. "Making it to state every year may make it sound easy, but not placing in those four years really drives me to become a champion." Carrillo also recently surpassed the record for most wins in Nazareth history with 125.
Carrillo explained what practices and game days look like as part of the wrestling team. "Practices usually consist of stretching, light weight lifting, and working on moves. Towards the end of practice, the players go one-on-one with each other to really get a feel for what a match is like." 
For the wrestling team, the work starts days before the actual match. Keys to being ready include staying hydrated and eating right because the athletes must make sure they make weight. Carrillo also said, "Mental preparation is a big part of staying locked in before a match."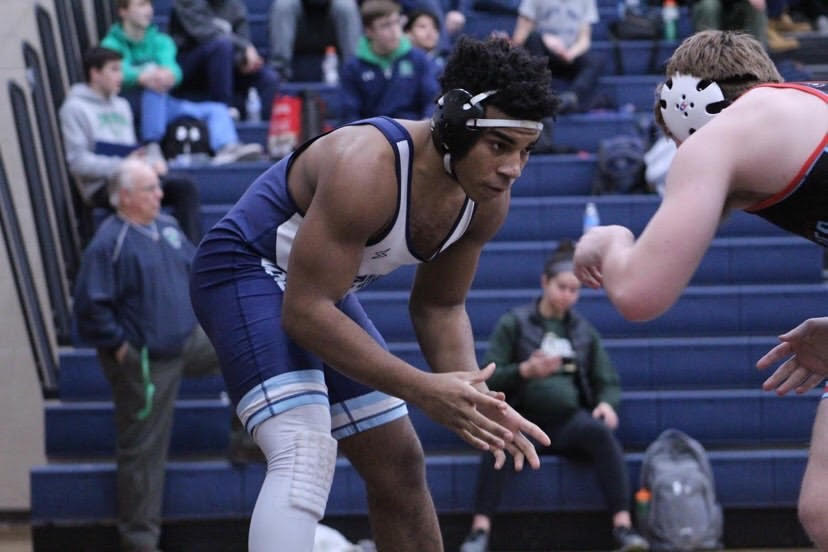 Another integral member of this year's team is senior Robert Gurley who started wrestling in 7th grade. He was always fascinated with combat sports, which is what first attracted him to the sport.  
Gurley appreciates what wrestling has inspired him to be: authentic. "I like how hard it is and how it forces you to work harder and how competitive it is which is very hard to fake it," he said.
With a record of 33-2 this season, and 116 career wins, Gurley is having a standout season, but he admits it has taken a lot of hard work to get here. "I feel good and very confident," said Gurley "I am working a lot harder than in prior years."
Gurley has made an imprint in Nazareth's legacy for wrestling since he has accomplished being a conference champion, a regional champion, and having the best record in Nazareth history: 36-4.
With a GPA above 3.0, Gurley was recently named in the Daily Herald suburban wrestling honor roll. "It feels good to know hard work pays off," said Gurley "I'm gonna continue striving to keep them [grades] up."
Gurley recently achieved his 100th win in his career. Even though he is very familiar with winning, he says he has to prepare himself for each match since wrestling is a very physical sport that can drain all of your energy. 
"First I made sure I'm the hardest worker and I make sure to leave with no regret in the way I prepare myself before the match," explained Gurley about his process.
As the team made history as the first to win a Regional Championship, Seniors Alex Carrillo and Robert Gurley continue to dominate as individuals on the wrestling mat. This team is one to look out for as the season continues this winter.