Girls volleyball sets the bar high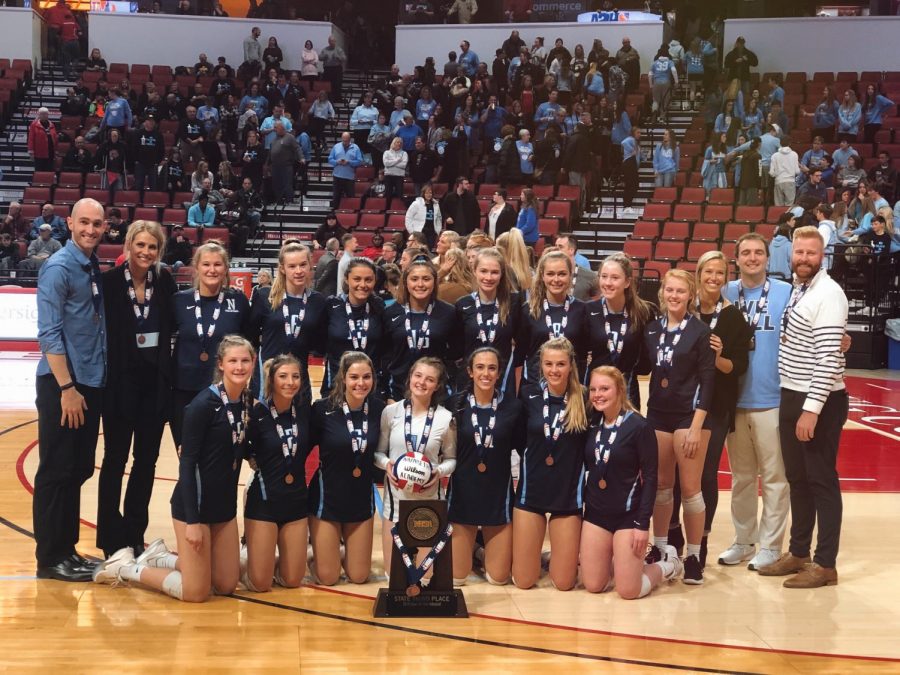 On November 8, 2019, Nazareth history was made. The varsity girls' volleyball team took home the program's first ever Super-Sectional Title and now has delivered Nazareth's first Volleyball State trophy. So what lead the team to take home the third place trophy?
With a roster of one freshmen, three sophomores, three juniors, and seven seniors, the varsity team has just the right combination of players. The team's motto for this year, "We Will," gives them the confidence that they need. It is a motivation for them by setting their dreams big and knowing that they can achieve greatness. They work together in a way that has taken the team farther than ever. 
Sophomore Gillian Grimes embraces and believes that they could do whatever they wanted if they worked for it. "We knew we were good and we knew we saw the talent, but we really had to work as a team to get to success."
Grimes shares that the win wasn't an individual success but instead a team effort. The high ambition and skill levels of this year encompass the whole team. 
Sophomore Kathryn Hurta is not only new to the team this year but to the school, too. She transferred from Lyons Township this school year to kick off her sophomore year at Nazareth Academy. 
Hurta thinks that the transition was made a lot easier because of the team. "Being on the volleyball team made it so much easier to transfer because it allowed me to have friends from all grades. They helped me with all of my questions and helped me get used to the school," adds Hurta. 
A key to the team's success was how they worked together. They had a connection off the court, but that didn't go away when they stepped on the court. They worked together and didn't just play to win or for the game, but they also played for each other. 
"We all had a goal and we knew we needed to work together to get there, so that's that we did" Sophomore Ivy Schoditch said. "We played for each other and gave our full effort to accomplish what we knew we deserved."
Senior Natalie Milano is so grateful that the team travelled together to compete at State. "My favorite experience with the team was going down to state because not a lot of people get that experience. I loved being able to stay with the team overnight which allowed for a lot of bonding time with each other." 
Along with the strong connection throughout the whole team, there is one bond that takes "sisters" to a new level. Freshman Katherine Sandt and Senior Ella Sandt take their sisterhood to the court and are able to make state history side by side. 
"I didn't expect it to go as well as it did," said Katherine. "Our bond ended up growing with each other, and I had someone there to teach me the Naz volleyball culture." 
It is clear to see that this year's team is special. Every member plays an important role, so with half of the team graduating this year, it will undoubtedly be different next year. But this year's accomplishments will never go away. For years to come, Naz teams will look up to this team and they way that they worked together and succeeded.