Fall into Autumn flavors
Now that the weather has cooled down and the leaves are starting to change color, local cafes, grocery stores, fall bakers, and social media platforms are featuring a variety of fall flavored items. From Starbucks to Trader Joe's there is no shortage of pumpkin pie spice cakes, coffees, and cookies.
Some were not willing to wait for the autumnal equinox – Starbucks came out with their fall-themed drinks and food on August 24th, weeks before the official beginning of fall. On TikTok and throughout Nazareth, people have been talking all about Starbucks' autumn items, especially their Pumpkin Cream Cold  Brew, pumpkin muffins, and their new drink, the Apple Crisp Macchiato. 
I tried the Pumpkin Cream Cold Brew and thought it was amazing in flavor, although the Apple Crisp was not my favorite because I don't think the taste of apple, caramel and coffee go well together. Not everyone feels the way I do though. Sophomore Emma Heery said, "I love the pumpkin loaf, and the Apple Crisp Macchiato."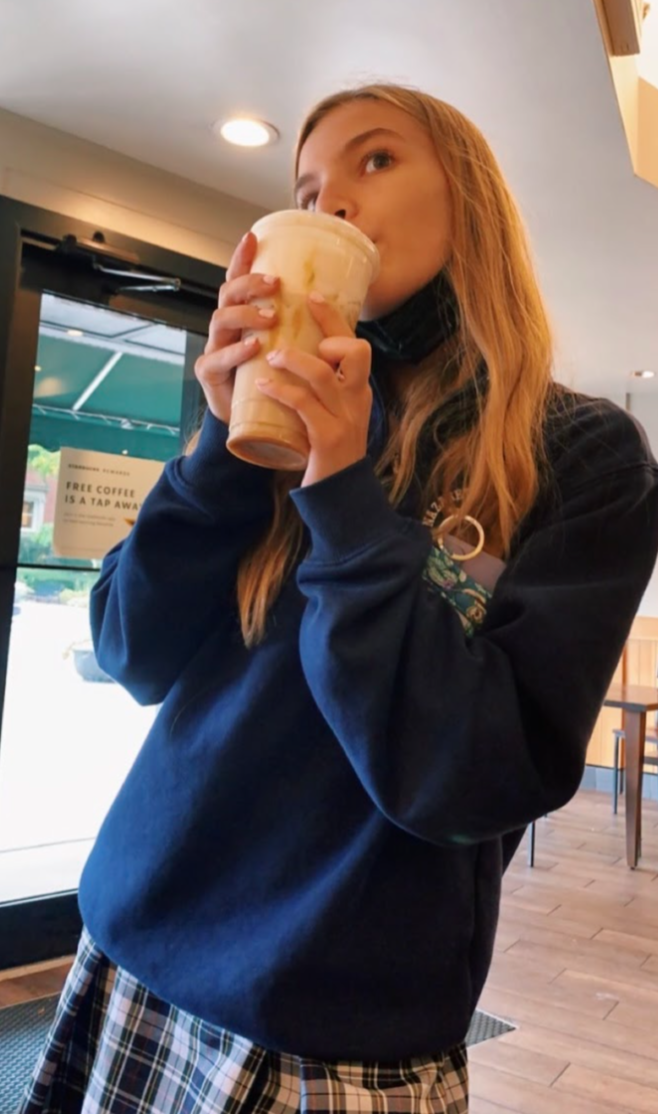 Everyone has come to rely on the huge variety of seasonal items that Trader Joe's presents this time of year. And this fall is no exception: some of their 59 fall items include, pumpkin spice hummus, pumpkin butter, pumpkin chocolate chunk oatmeal cookie mix, and butternut squash Mac and cheese bites. They made sure to include something for everyone including vegetarian, vegan, gluten free options, and even self-care items such as lotions.
Sophomore Alice Buchman always looks forward to the time when the fall flavors are available at Trader Joe's. She said, "The fall pumpkin pancake and waffle mix is so good and is perfect for a fall breakfast." I tried the pumpkin Joe-Joe's from Trader Joe's and I thought that they were worth all of the attention they have gotten because of their pumpkin flavoring which reminded me of the fall season. Buchman also loves the fall flavors in the classic chai latte from Starbucks.
While buying all of these items are still an option at almost every grocery store, there are still many fall recipes to bake and enjoy. On TikTok, people are making pumpkin cookies, pumpkin muffins, carmel dips, and much more. The variety of flavors allows there to be something for everyone's taste. 
Baker Nicole Thenomad, who has 2 million followers on TikTok makes fall desserts including pumpkin chip brownies and pumpkin cookies that look amazing. 
History Teacher and Baking Club Moderator Jennifer Larson finds all her fall dessert recipes on Pinterest, instagram, and even just looking them up on the internet. She hopes to be able to make some fall desserts for the Baking Club this year. She said, "My favorite dessert to bake in the fall is pumpkin cheesecake." Larson said that she personally loves apple flavoring the most, especially in apple cider doughnuts, apple cider, and in apple pie. She gets both apple doughnuts and apple cider from the apple orchard, Kuipers family farm.