Carstensen and Hyland deserve their spots on varsity basketball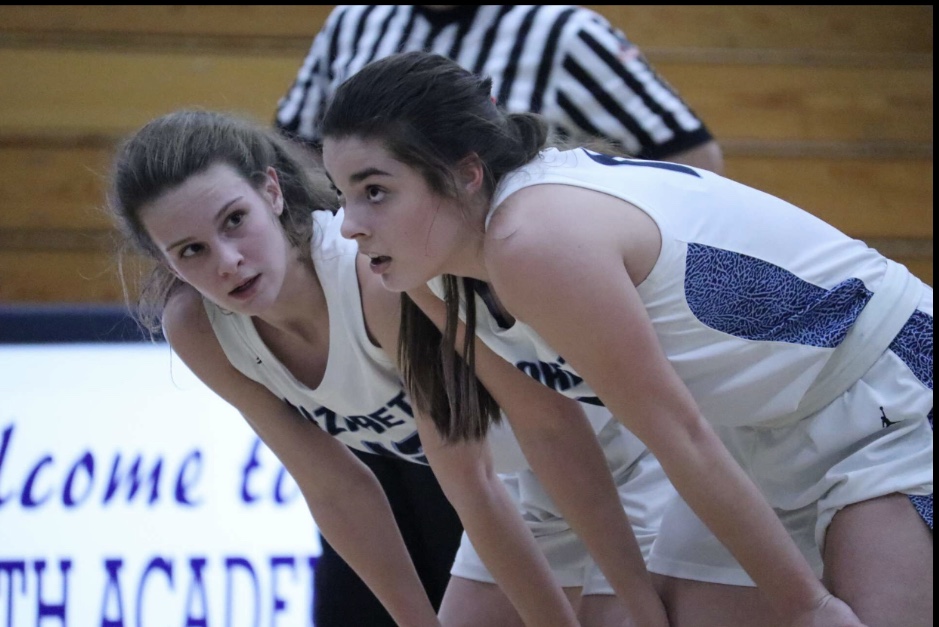 Freshmen Grace Carstensen and Mackenzie Hyland began their high school experiences as two starters for the Nazareth's varsity girls basketball team. Here's a look into their first year as high school students and varsity athletes. 
Senior captain, Francesca Metz spoke highly of the two young players and their contribution to the team. Metz stated, "Both girls have proven they can handle varsity level basketball. Grace came in and made a statement right away, hitting big shots for us when we needed them." 
"Mackenzie has stepped up on the opposite end of the court by making big plays on the defensive end that have completely changed close games that we have been in," continued Metz. "Both girls are overly determined to prove to everyone that even as freshmen they can make a huge impact on the varsity level."
Carstensen and Hyland both agreed that the game had definitely become more challenging in high school. "The transition from middle school to basketball hasn't been easy. The pace is so much faster, the plays are definitely more complicated, and we went from playing thirteen and fourteen year olds to now playing eighteen year olds", stated Carstensen. 
Hyland added to this by saying, "It's a lot more physical now than what we were used to. We get pushed around a lot more and the game is more intense, but I think that this season has just worked to get us smarter and stronger."
The two freshmen admitted that coming into high school as varsity athletes was a bit of a struggle. "Sometimes, managing school and basketball is a lot and it's stressing," said Hyland. "I agree," stated Carstensen, "but it's also helped me grow mentally and learn how to have thicker skin to handle whatever comes at me." 
Both girls have been able to fit in very well on the team. While Hyland already knew many students before school started, Carstensen was coming in only knowing one person in her grade. "Being on the basketball team definitely helped me find my friend group and feel more comfortable coming into Naz. I didn't know anyone except Mackenzie, so being on the team helped me feel like I already had a family here." 
The girls have built a very close bond with their captain, Metz. "I now look at both of them as my little sisters, or I goof around and call them my children because I'm always taking care of them. Being able to be there and show them the ropes of varsity basketball has been amazing and I've loved every minute of it", said Metz. 
The girls have grown to admire Metz and their other senior captain, Kaylen Evans, as well as earn their respect. "Varsity basketball is different because the players must be smarter and understand the game more in depth. As freshmen, they are not expected to know certain things, they are allowed to make mistakes.They have both shown major improvements in their basketball IQ's," says Metz. 
Despite being new members on the varsity team, they've shared laughs, tears, wins, and losses equally with their team, as each has made them closer than ever, as stated by Carstensen. 
According to Metz, in their program, one will not be able to come in and succeed if she is lazy. Both girls have proven to her to be hard workers by training on their own time and attending every single pre-season workout, realizing that these are some of the actions that it would take to succeed. 
"They have proven to us and the coaches that they deserve to be in a big position in this program," continued Metz. "Both girls have found their role on the court and have had a very successful season, and they will continue to succeed in the following years."