Girls tennis off to a strong start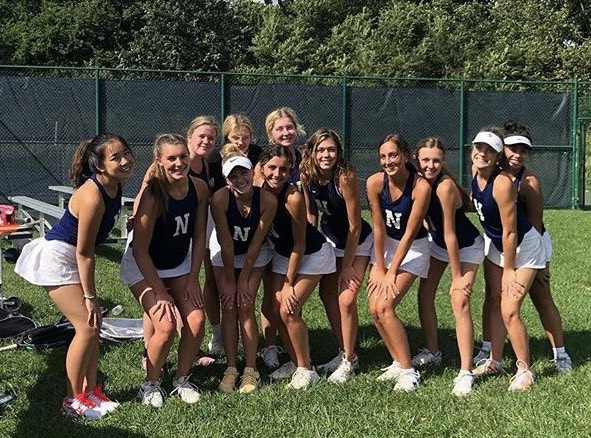 The Girls Tennis team kicked off their season on August 24th with a match against Lyons Township. Since then, the team has continued to play in 5 other matches, both at home and away. 
The team plays in 20 matches before the IHSA State match in October. For a relatively short season, this is a lot of competitions. Doubles player, Junior Shea Svoboda, remarked, "Sometimes it feels like we have more matches than practices!" 
But something must be working, because the team has had great success at their matches against LT, Benet, and Timothy Christian.
There are many standout players on the team in both singles and doubles. The first doubles team of Senior Lizzy Herr and Junior SJ Weidner have a record of 1-1 thus far this season. 
In addition, seniors Chloe Michel, Jane Thornton, and Sophia Cho are revealing themselves as stellar singles players. Chloe had a win at second doubles against Timothy Christian, winning a 10-8 third set tie breaker. Jane and Sophia are 1-0 at second doubles. 
All the girls are excited about the team and the season. Senior Chloe Michel says, "Our team's energy is so positive and I love being a part of it!"
The team's next match against Batavia and Hillcrest is Saturday, September 7th at home, so make sure to get out there and cheer on our Roadrunners!