Fall Sports Wrap-Up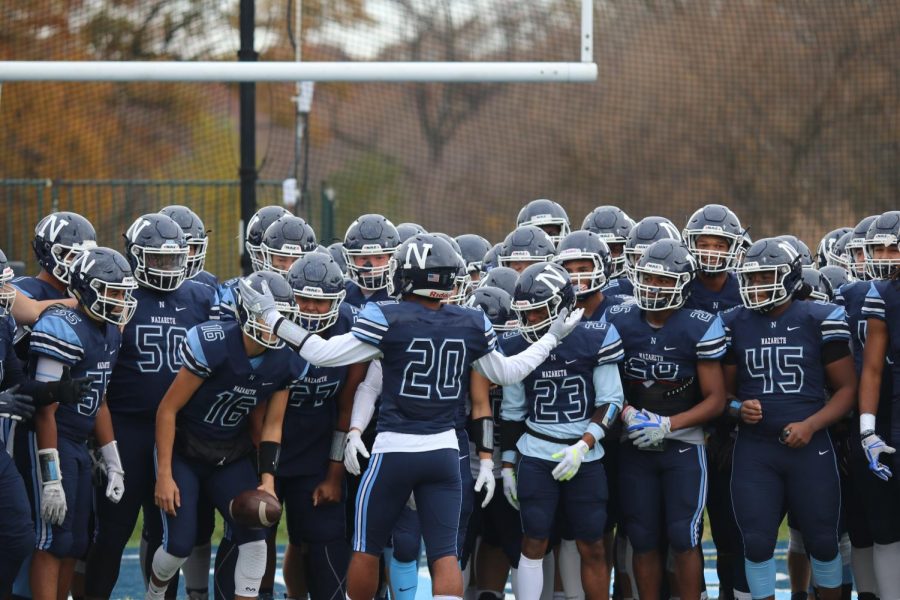 Band & Color Guard This year, the band and color guard have made great strides in terms of musicianship, dedication, enthusiasm, and mostly becoming a family. Highlights of their  season include forming new friendships during camp week and driving down to University of Illinois to cheer on and support your 2018 7A football state champion Roadrunners, while also performing on NBC Sportsnet for the game! Thanks to both groups for your hard work and dedication!
Thanks to Band Director Mike Sliwinski and Color Guard Coach Janet Rausch.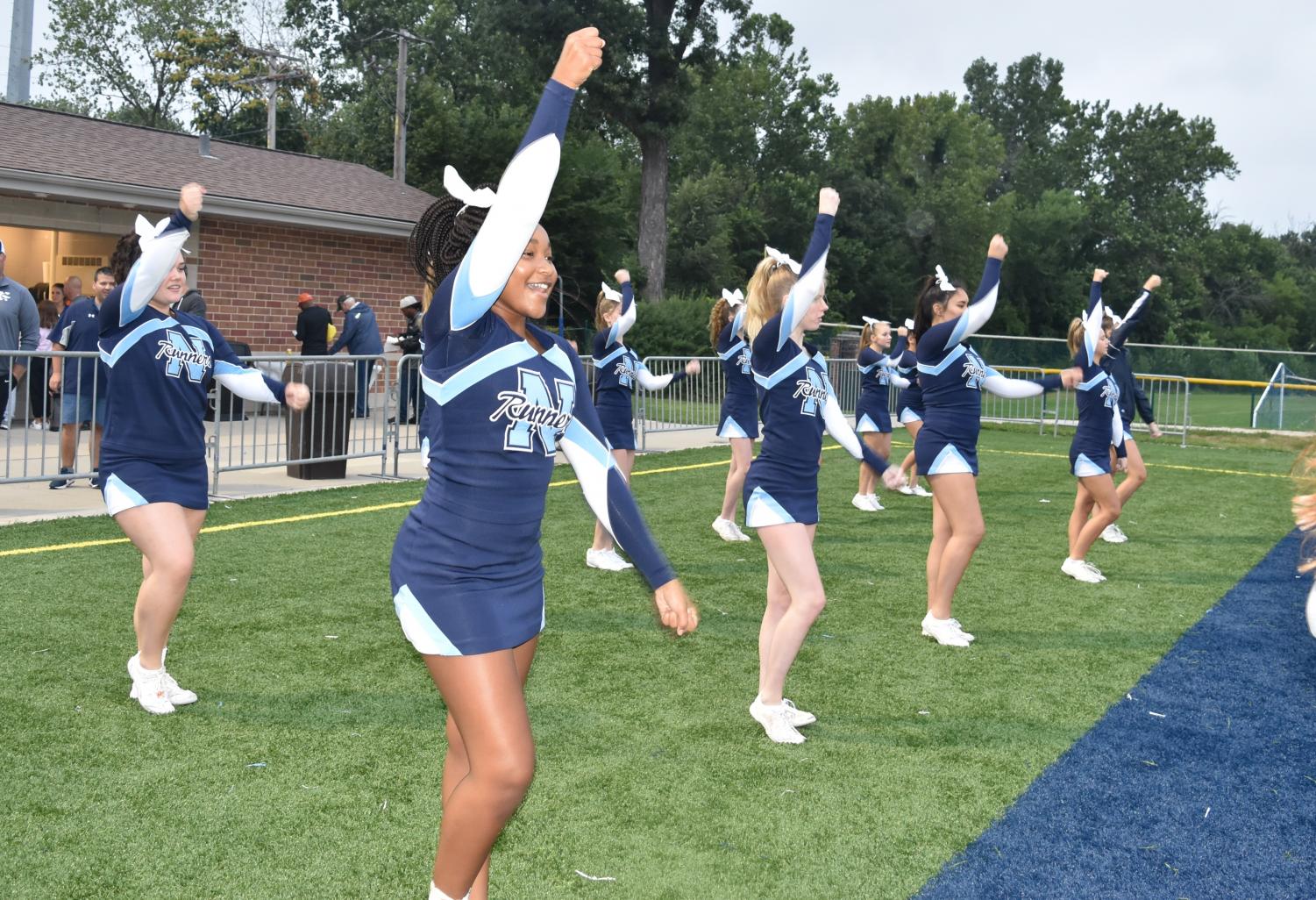 Cheer Team This fall, the cheerleaders have been working hard to prepare for competition season. Learning a new routine, that is fun, fast paced and difficult, they still manage to always give 110%! This team of 14 girls is more of a sisterhood. They have a unique bond and it shows through their teamwork and unity, which is modeled by their exemplary senior members.  
The cheerleaders first competition will be held at Bourbonnais on Sunday, December 9th. We look forward to cheering them on then and throughout their competition season, as they always do for us.
Thanks to head coach Jessica Darwish.
Boys Cross Country The boys cross country team had many season highlights. They advanced from the IHSA Regional finishing in 2nd place – Nazareth had a IHSA Regional Champion Scott Sikorski and a IHSA Regional Medalist – Christian Cano. Then, Nazareth Advanced to the IHSA Sectional Meet finishing 12th overall.
Specific individual accomplishments include ESCC Frosh/Soph Conference medalists, Brendan & Jack O'Brien.
In addition, one individual, Scott Sikorski, qualified for IHSA State competition at Detweiller Park in Peoria.  At the state race, Scott finished 52nd with a 15:45 time at the State meet, which makes him the Nazareth record-holder for State finish. In addition, Scott was an ESCC Varsity Conference Medalist.
Thanks to coaches Sean Banasiak and Kevin Milos for their leadership and guidance of this team.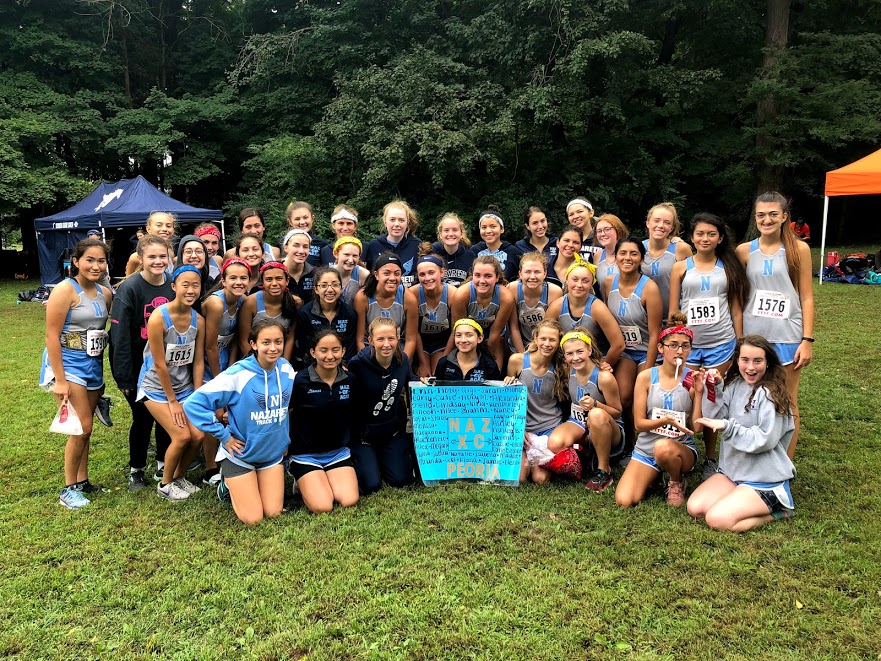 Girls Cross Country The girls cross country team enjoyed another successful season. Among other team successes, they were team Sectional Qualifiers. Individual accomplishments include Regional Medalist & Golden Spike winner Ailee Hogan; Pursuit of XCellence winner Megan Henehan; and new members of the distinguished 500 Mile Club: Gigi Kinsella & Ailee Hogan.
Thanks to Coaches Joe Wejman and Anthony Gonzalez for their mentorship this season.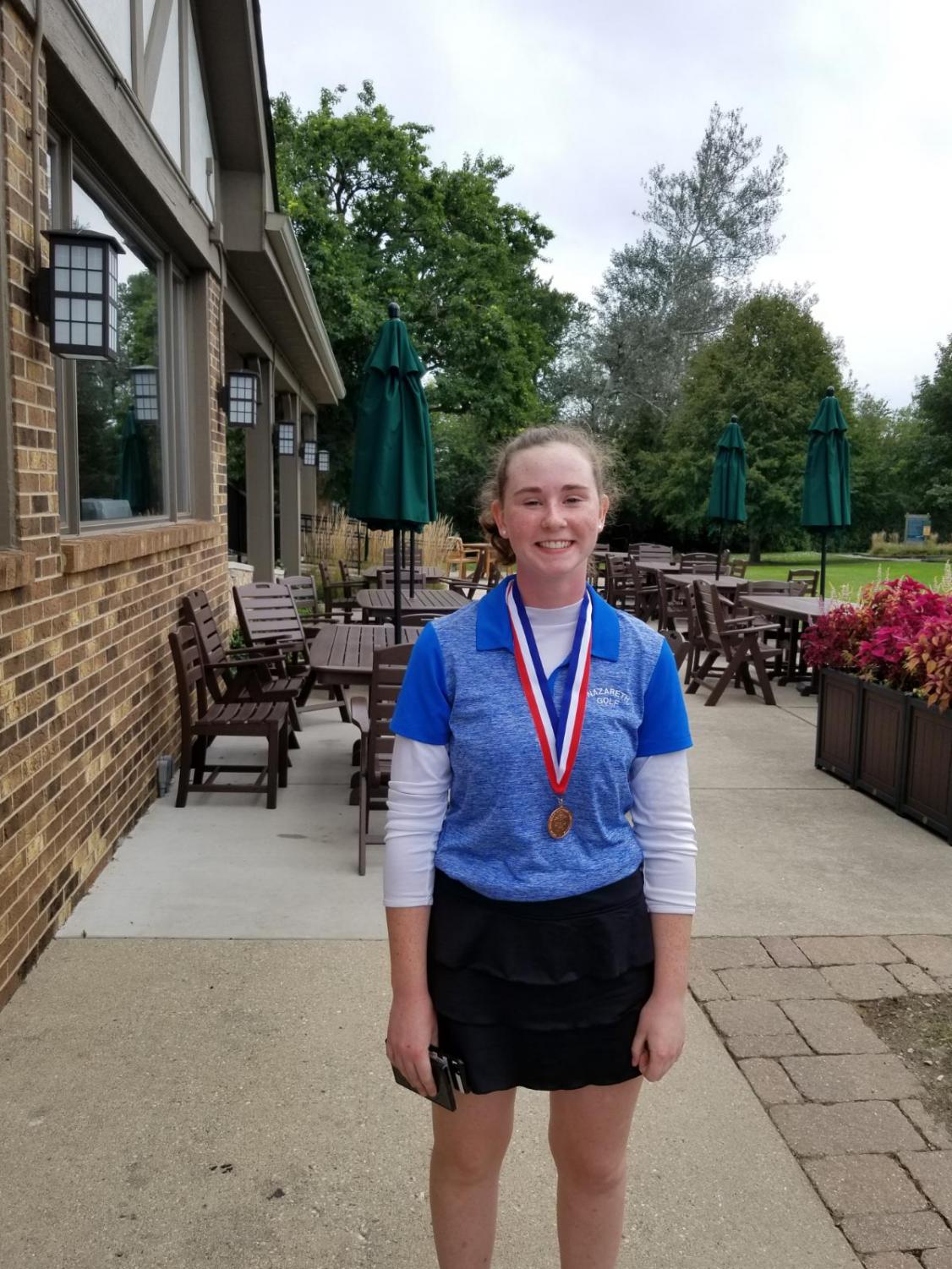 Diving Eva represented Nazareth in IHSA's state diving competition. She showed her excellent diving skills as she earned the title of Sectional Champion. In addition, Eva made school history, finishing 4th in State at the IHSA State Diving Finals!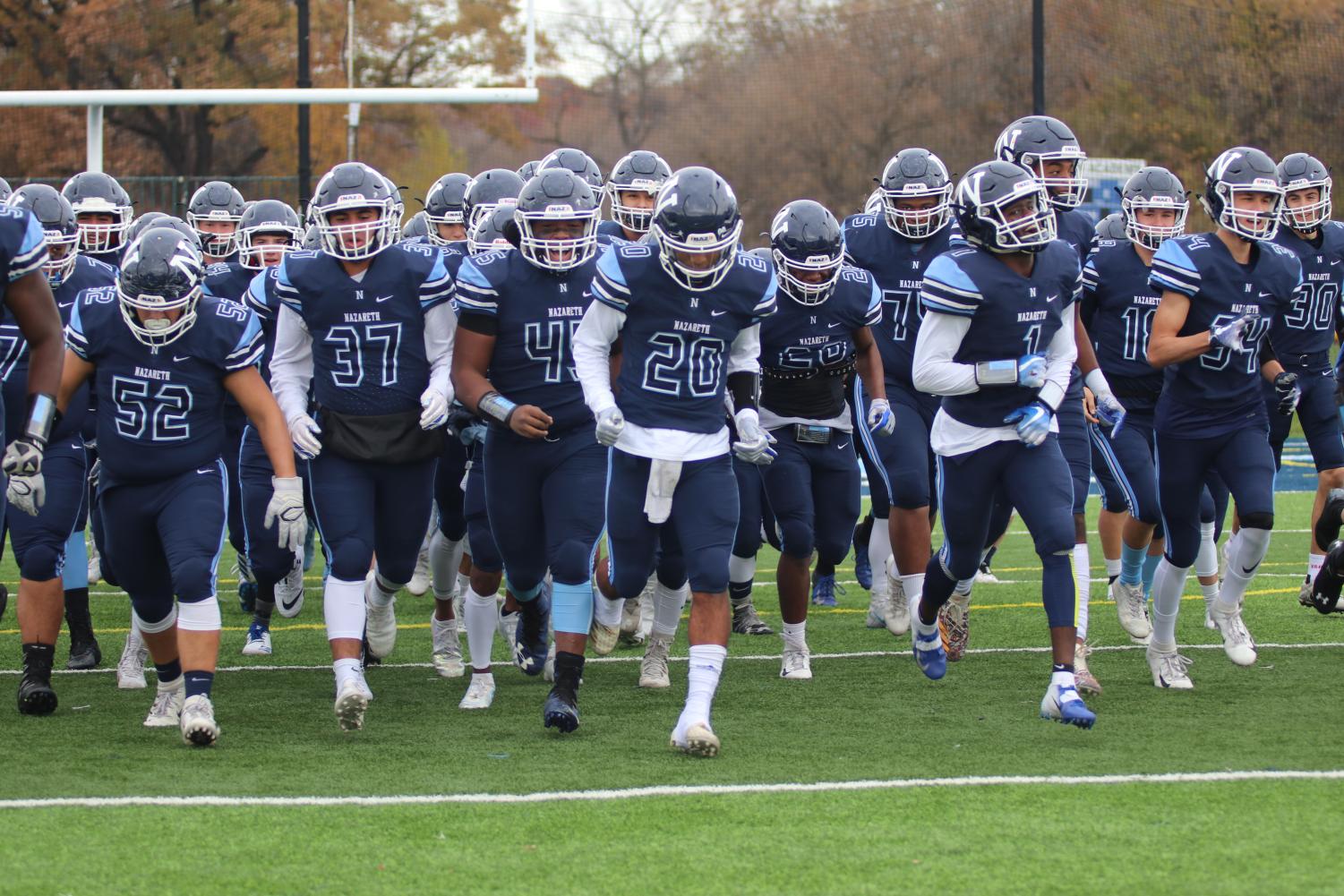 Football  On Saturday, November 24, Nazareth Academy's Roadrunner Football finished their history-making 2018 season with a victory over St. Charles North, winning the IHSA Class 7A STATE CHAMPIONSHIP.  
The championship marks the culmination of an outstanding season for the football players and coaches. Many players earned special recognitions for the accomplishments on and off the field.
11 players have been named all-conference and all-state players: Jermaine Baker, Diamond Evans, Matt Keeler, Cameron Leach, Michael Love, Elijah Moscinski, Marcus Griffin, JJ McCarthy, Louie Stec, Alex Carrillo, and Nathan Lugo.
3 players have been named to the Sun-Times All Area team: JJ McCarthy, Diamond Evans, & Michael Love.
Several of these players earned the Illinois High School Coaches academic all state with GPAs of 3.5 or higher: Diamond Evans, Elijah Moscinski, JJ McCarthy, and Alex Carrillo.
Sophomore quarterback, JJ McCarthy was named the Chicago Bears Player of the Week AND the Country Companies Athlete of the Month.
Wide receiver, Senior Michael Love has earned several historic awards including ESCC Defense MVP, Sun Times Player of the week, Suburban Life Player of the Year, and Country Financial's player of the Game in the CLASS 7A State Championship! Michael tallied 166 total yards & his 59 yard TD run helped propel Nazareth to the victory.
Congratulations to Coach Racki and his coaching staff for this incredible accomplishment. This marks Coach Racki's seventh state championship as a football coach.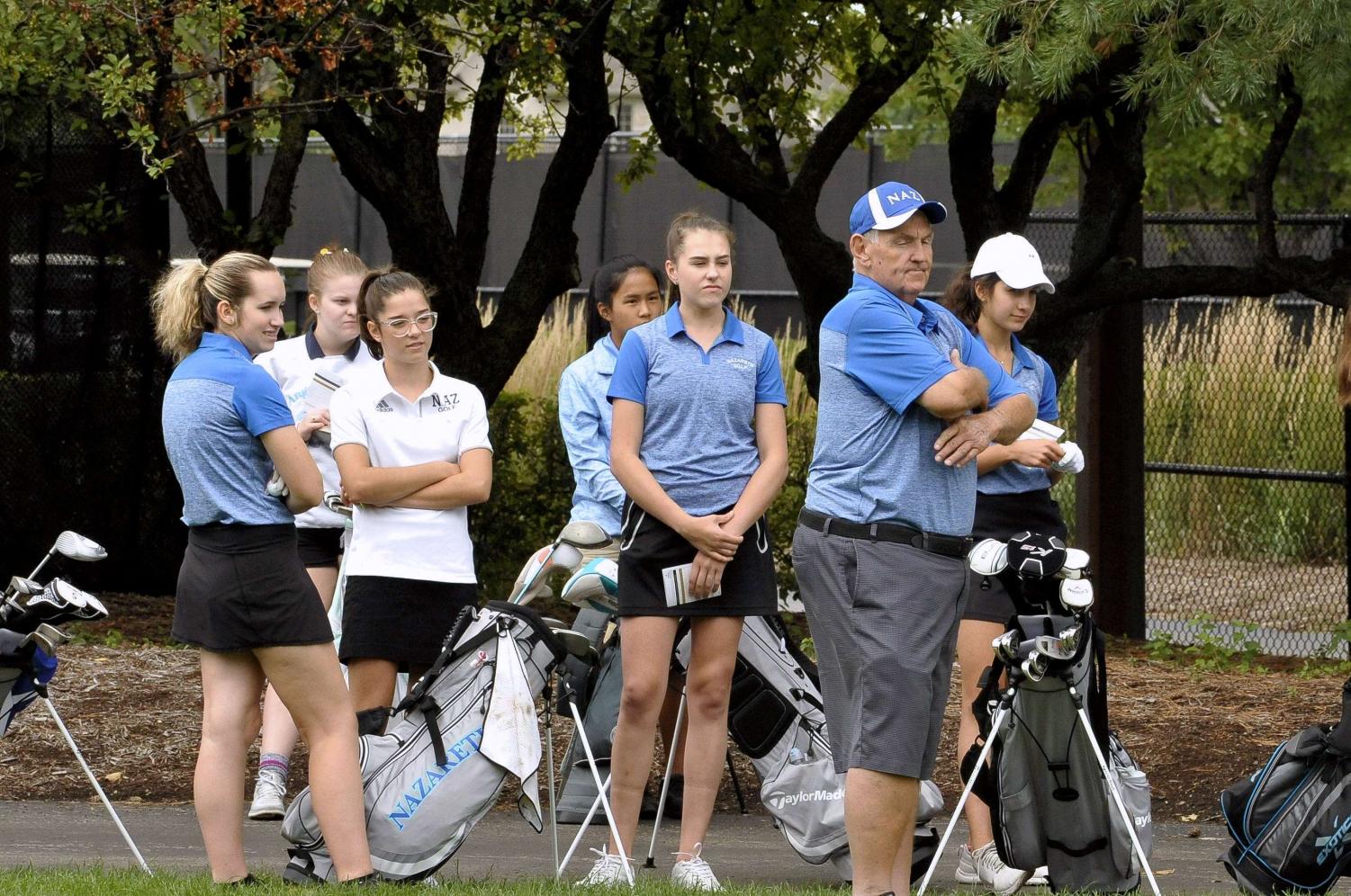 Girls Golf  In addition to the great success of the team this fall, Matigan Smith was an ESCC Conference Medalist and a IHSA Class 2A Sectional Qualifier for the second consecutive year. Way to go, Girls Golf!
Thanks to head coach Chuck Rohlf.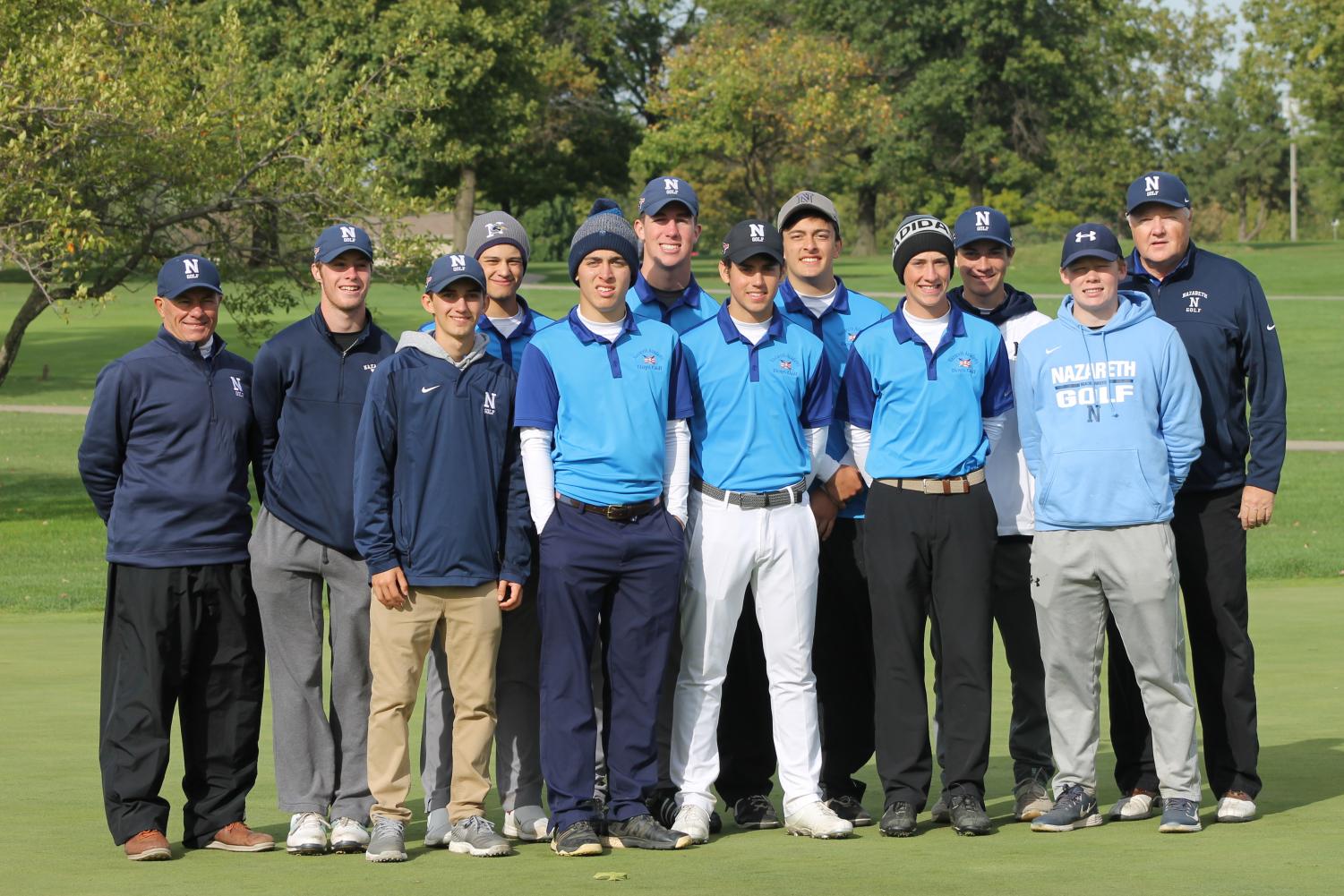 Boys Golf There are many individual accomplishments for this team: Michael Rooney earned 2nd at Regionals and John Hamilton, Jack Keivan, Nicolas Longo, and Jonathan Winters earned the title of ESCC All Conference.
In addition to individual successes, the Boys Golf team enjoyed a record-breaking season. Team highlights include earning the title of Class 2A Regional Champions, and then going on to earn 4th at state in the Class 2A division, which is a Naz record! The 2018 members of the 4th Place in State Boys Golf Team are Sophomore – Joe Keivan, Juniors – Billy Brown, Michael Gentile, Nicolas Longo, Kevin Metzger, Michael Rooney, Jonathan Winters, Seniors – Johnny Hamilton, Jack Keivan, Anthony King, and Pierce Wilson.
Senior Anthony was the Regional Champion, a 2nd Place Sectional Medalist, and eventually went on to place 7th in State. All of these successes led Anthony to be recognized as IHSA Class 2A All-State.
Thanks to head coach Mike Morris.
Pom and Dance Pom and Dance has much to celebrate. Some of their fall highlights include celebrating 5 amazing seniors for Senior Day; performing on Fox 32 for Homecoming pep rally and at many halftimes; and assembling a very talented competition team. Competition season began this week.
Thanks to Head Varsity Coach Katie Broenneke.
Boys Soccer The Boys Soccer team were competitive and had a strong season under the leadership of the senior players. Among other season highlights, this team earned 2nd Place in the Glenbard South Tournament. In addition, Junior Nicholas Rozmus, earned the titles of IHSSCA Honorable Mention All-Sectional and ESCC All-Conference.
Girls Tennis Girls Tennis's fall season had many highlights, which include 1st Place finishes at the Joliet West Quad & Willowbrook Invite in addition to several individual and pair wins, including Lizzy Herr and SJ Weidner being ESCC medalists finishing in 2nd place!
Thanks to head coach, Lisa Straface, for her continued leadership and guidance of this team.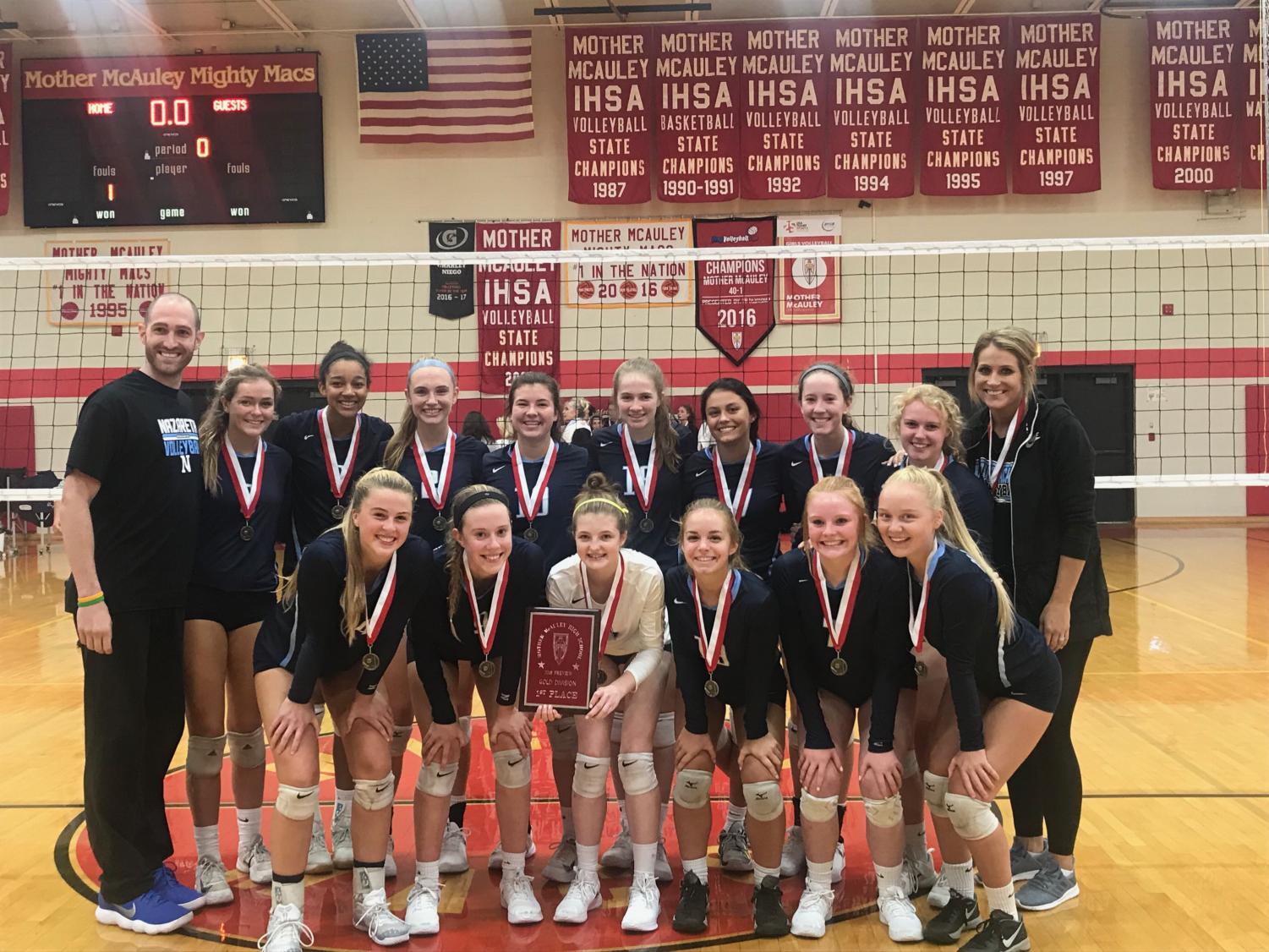 Girls Volleyball This team had great success at tournaments and matches, notably #beatingBenet at home and being IHSA Regional Champions! In addition, Ella Sandt and Leilani Dodson earned the title of ESCC All Conference.
Thanks to Coach Melissa Vandrey for her efforts in leading this team to great success this season.