Stellar Season for Girls Basketball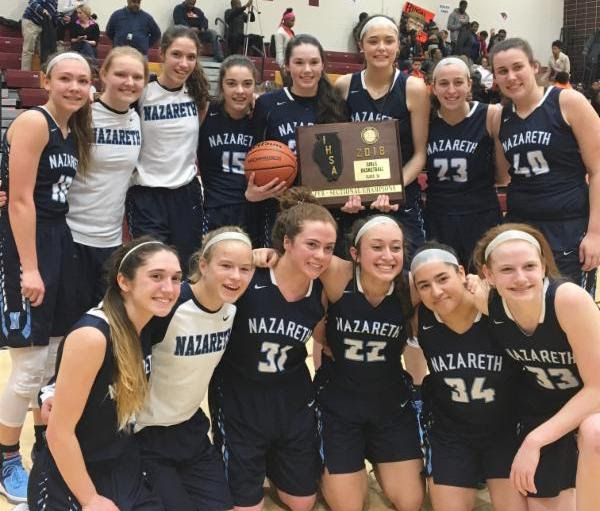 by Daniel Pelayo and Eduardo Carrasco, Staff Writers
March 22, 2018
What an incredible 2017-2018 season it was for the Nazareth Academy Girls Basketball team. Or as some would rightfully call them: The Best Nazareth Girls Basketball team in school history. The team went 31-3 overall this season and 6-1 in the conference. The team also made it farther than any other Nazareth team has made it in the past, ending the season placing 2nd in the Class 3A State Championship. This season has truly changed the face of the Girls Basketball program at Nazareth.
Junior Annie Stritzel reflects on the season, "Truly amazing, it was so great to have a team work together towards a common goal. We all pushed each other to get better. We created the most amazing memories together."
The team has come far in just one season from ranking 244th in State and 67th in the Class 3A, to being one of the best teams in the State and making it to the State Championship. Stritzel attributes the team's success to the way they worked together. "Our chemistry showed on the court which led us to our success. At times, it was challenging, but definitely rewarding. The amount of work our players and coaching staff put into this season is crazy." The team put in the work and got the results. They came together for a common goal and worked towards it, which is truly inspiring.
However, it goes without saying that the season didn't end the way the team would've wanted it to end. In the Class 3A State Championship the Nazareth Girls Basketball team lost to Richwood, 55-46. Some may argue that this will be the last anyone will hear of the Nazareth Girls Basketball team, as they will be losing two starters: Alyssa Geary who will be attending Providence College and Marissa Metz who will be attending University of Missouri, Kansas City. But, with the remaining players, another strong season is likely.
Stritzel said that the loss at the State Championship would  be used as "fuel to get back there next year." When asked about how the team will function without their two of their key starters next season Stritzel continued, "Next year, it will be part of my role to step up as a vocal leader. It will be challenging to fill in for Alyssa and Marissa, but it is a task that each girl on our team is ready to do." It seems that there is nothing this team can't accomplish when they put their mind and effort into it.
Surely, this is the start of a new era for Nazareth Academy Girls Basketball. With the determination all of the players have shown, their ability to deal with adversity, and the leadership that every player displays on this team, the Nazareth Academy Girls Basketball Team will be back, and they will be better than ever.