Loyola plays to advance to elite eight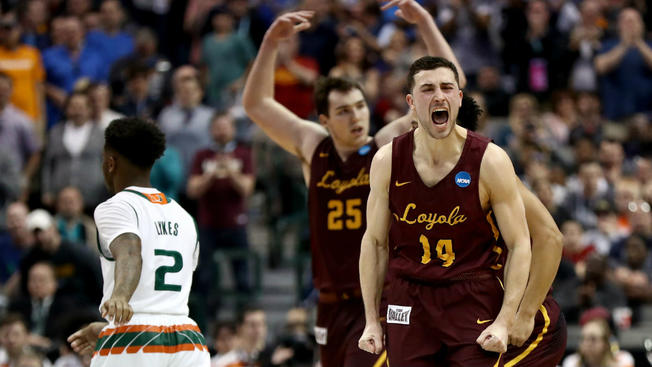 By Daniel Pelayo, Jr., Staff Writer
March 22, 2018
The Loyola-Chicago Men's Basketball Team are on track for a Cinderella story in the 2018 March Madness Tournament. The Ramblers are the number 11 seed in the tournament and have knocked off 6th seeded Miami and 3rd seeded Tennessee, both games won with miraculous game winning shots from the Ramblers. The Ramblers will look to continue their success and their journey, but will the luck eventually run out?
The success of Loyola in the tournament could be attributed to luck, but Sister Jean, who was a former Academic Advisor for Loyola and has great love for the game and her Ramblers, thinks otherwise. She truly believes in the Ramblers, despite not having them making it past this upcoming game in her own March Madness Bracket.
Sports Illustrated reports that Sister Jean told the team, "Don't let the Tennessee team members scare you with their height," she said. "Height doesn't mean that much. You're good jumpers. You're good rebounders. You're good at everything. Just keep that in mind." These words of wisdom seemed to truly inspire the Ramblers who seemed to many, at a physical disadvantage to Tennessee but overcame that and won the game with another game winning shot.
After the game all the players went to thank and hug Sister Jean. It seems that she has played a very crucial role in the success of the players. While inspiring them to play good in the game, it seems Sister Jean's words of wisdom have impacted the players off the court as well.
Many of the players have now found confidence, and rightfully so, after knocking off two great teams and proving everyone wrong. When asked by Sports Illustrated if their under par physical attributes give them an advantage in the tournament, Guard Ben Richardson asked reporters, "We're not scary looking?" and Guard Clayton Custer similarly questioned reporters "We don't scare you?" The Ramblers newly found confidence will definitely show in their next game against Nevada.
With the Ramblers in the best form of their life, their secret weapon in Sister Jean, and all the confidence in the world it seems like anything is possible for the Ramblers. While the Ramblers will look to prove the world wrong, most importantly they want to prove their biggest fan and teammate Sister Jean wrong.
The Ramblers will look to continue their Cinderella story against Nevada March 22nd, 2018.