Naz celebrates Earth Day by planting trees
In celebration of Earth Day and in hopes to "green" the campus, Nazareth teamed up with the Chicago Regional Tree Initiative and The Morton Arboretum to plant trees on Thursday, April 22nd. Former Naz parents and current Naz grandparents Dr. Tom and Elaine Layden donated 17 trees to the school. Staff and students from the Environmental Club and Student Council also worked with the groups to plant the donated trees.
Biodiversity is crucial for human survival and is easily affected by both human activities and natural forces. Food, air, water, and shelter are all available due to biodiversity. According to Green Coast, a renewable energy and green living blog, "There exists various natural processes formed by different species that enable the availability of these essential life elements."
A chain of reactions may occur if humans damage any of these processes, affecting not just nature, but everyone's lives. Specifically, deforestation can lead to a lack of essential materials such as furniture, rubber, food, and shelter. This damaging maneuver also takes homes away from many different animals and prevents trees from scrubbing the air of carbon dioxide and producing the byproduct of oxygen.
Prior to the tree planting event, Nazareth Director of Development, Colleen Sacks said, "For some folks it just seems so big and it seems like, me throwing this plastic into the recycling bin…does that really matter?" 
Yes. All of those little changes in our daily routines to help protect the earth do matter. These small actions can add up to create a greater outcome. 
The tree planting at Nazareth on Earth Day started with a prayer service led by Sister Pat Bergen, CSJ as well as Environmental Club moderator, Laurie Stanton. The service started with Senior Maggie Rausch singing "Canticle of the Sun" and continued on to feature members of the Environmental Club and staff from the school speaking about the importance of the trees. 
Senior Megan Henehan and Sr. Pat blessed the trees with a bowl of water and an evergreen branch. The group asked the trees to provide us with life, happiness, shade, a cool breeze, and feelings of calmness. The service came full circle with Rausch singing "Canticle of the Sun," "The heavens are telling the glory of God/And all creation is shouting for joy"   
The Sisters of Saint Joseph emphasize taking good care of the earth. Making sure that God's creations are never ignored, they often involve themselves in service having to do with keeping the earth clean and thriving. 
Sr. Pat goes into detail about the passion she has for the earth. "Trees consume the carbon emissions that are polluting our atmosphere resulting in a large increase in lung disease, especially childhood asthma. Planting trees is a major way that we can bring our planet back into balance."
Similar to what Sr. Pat says about pollution, the website Green Coast says that polluted water and air can lead to health issues like cancer and many different respiratory diseases. Air pollution is associated with not only asthma, but also heart attacks and bronchitis.
After the service, the group split up and started planting the trees around the campus with the assistance of the Chicago Regional Tree Initiative/The Morton Arboretum. 
The Announcer spoke to Chicago Region Trees Initiative Specialist Melissa Custic at the event, where she shared an interesting fact about why trees are important on school campuses. Custic said, "There are a lot of studies about how trees benefit human health, that's mental and physical health, and public health issues, and also education. Students that have a view of trees and green space from a classroom window do better on tests and they have fewer symptoms of ADHD and it reduces stress hormones, so there's all kinds of reasons why greening campuses, school campuses in particular, is great for kids."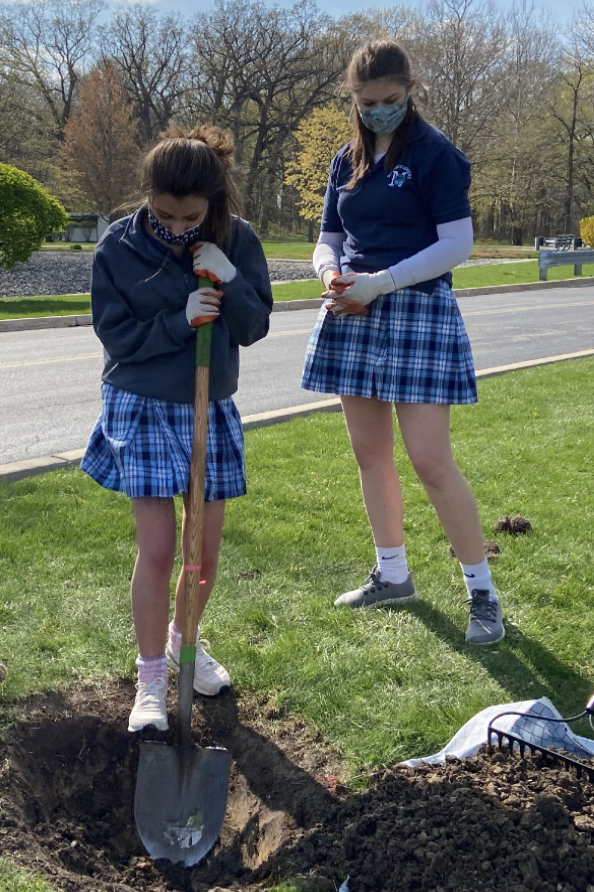 Oftentimes, people forget how beneficial trees specifically are for mental health and don't understand the correlation they have with bodily health. Taking care of the earth that God gave us is crucial to living a happy and healthy life.Henehan, a member of the Environmental Club, reflects on the tree planting. "Planting the trees was a great way to spend Earth Day and made me understand how important trees are and how much attention they deserve in order to function at their best. I knew nothing about trees before today, so I learned a lot!"
Little steps taken to care for the earth can lead to a chain reaction. The more Nazareth students stay involved with caring for the environment, the more of an impact our school can have. 
Trinity Pierce, the Stewardship Coordinator for the Chicago Region Trees Initiative based out of the Morton Arboretum, talks about the initiative's mission. "We've got a thirty year plan; We want to increase our urban forest canopy in the seven county region by 4%. So, that's gonna take about 25 million trees. If we can get more partners just like you, the students, the staff, the sisters, everyone involved in their own way, then we can actually look to a brighter future."
Looking at environmental issues can be overwhelming and make people feel like their individual actions aren't enough to make a difference. The smallest changes we make in our daily lives can actually lead to big impacts if everyone works together towards a common goal.
Senior Gianna Imbarrato, a member of the Environmental Club said, "It was so fulfilling to plant trees on the Naz campus, because they are going to give back to the community for so many years to come!" 
Nazareth often encourages students to leave a legacy behind, and getting involved around the school is a great way to do that. Students who helped plant the trees on Earth Day are leaving a legacy on the campus that future generations will benefit from.