Eyes Out for Empathy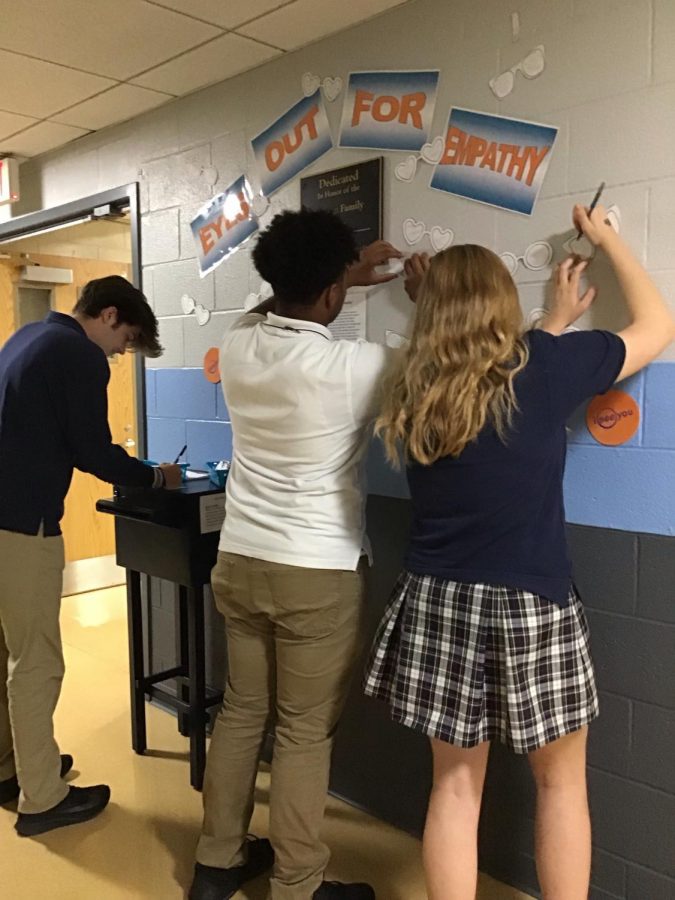 Required summer reading for all Naz students was A Man Called Ove, a novel which addresses the topic of empathy and the importance of understanding and sharing others' feelings. Since the start of school, everyone has been encouraged to be more empathetic.
We look out for one another here and grow stronger as a school community in large and small ways, like with the new "Eyes Out For Empathy" wall. 
In between the main lunchroom doors there was a blank wall that Student Council decided to transform into a space to showcase acts of empathy. This wall will eventually be filled with glasses-shaped paper cutouts, on which students can write examples of acts of empathy they have witnessed or have been a part of.
"Widening Our Lens So That All May Be One," is the theme for the 2019-2020 school year. This theme is being brought to life through this wall, going hand in hand with the themes of unity, family, and empathy. 
Being able to consider others' unique situations, noticing how much other people do for one another, and being grateful for those actions, are great examples of widening our lenses to be a more empathetic school community. 
Being part of the Nazareth Academy family gives us all the unique opportunity to be mindful of and practice empathy throughout our days. We are given ways to remember to love unconditionally and constantly practice empathy through thoughtful school themes and activities. 
As a school community we continue to grow closer and as we move on, the hope is that we will spread this love and understanding all around us.