The Nelson sisters rock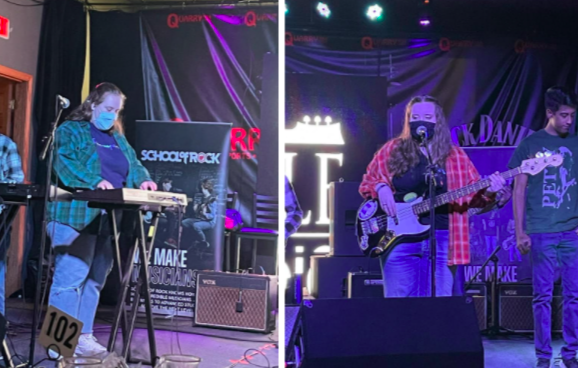 There are two budding rock stars walking the halls of Nazareth. Freshman Iris Nelson and her sister, junior Greta Nelson have been participating in School of Rock Hinsdale and honing their rock chops for years.  
School of Rock is a youth music education program with locations across the United States and all around the world. There are five levels in the program allowing music students to grow as they go. Students typically start with learning from an instructor one-on-one and as they move through the levels, they take ensemble lessons and learn a number of songs from a specific artist or within a genre, and perform as a band at live-music venues.  
The Nelsons have performed in many ensemble groups and have showcased the music of artists like AC/DC, Carol King, the Beatles, Queen, The Who and Pink Floyd and the genres of New Wave, Funk and R&B. 
At School of Rock, Iris mostly plays bass, guitar, and drums, and also sings vocals. Greta plays keyboard exclusively. Iris loves the "family" and "friendly" environment of School of Rock. Contrary to the more classical feel of school bands, School of Rock is more about the rock-and-roll and Greta appreciates the opportunity to play in that setting. She also loves playing keyboard because of the versatility of the instrument. "I can learn rock music, pop, and also classical if I wanted to," said Greta.
In their most recent performance, the Nelson sisters performed on stage at The Quarry in Lemont and played from the catalog of Tom Petty songs. This performance was a success. "It was a really good show," they said in unison. The sisters appreciate the vibes a live audience adds to the performance experience, but it's one audience member in particular that means so much to them. "Grandma comes to every single show. Even though she's not a rock-and-roll girl," said Greta.
Iris has been a part of School of Rock for about seven and a half years. She has always loved music and is inspired by her favorite artist, Billie Eilish, but she was actually inspired to join the program when she was in second grade after picking up a flier for School of Rock when she was at a fair with her mom. Once Iris was involved, Greta thought the program was really cool and joined her sister about a year later. Some of Greta's musical influences include Taylor Swift, Fleetwood Mac keyboardist Christine McVie and Phish keyboardist Page McConnell.
Both musicians say that aside from the musical skills they've learned, the most valuable thing they've taken away from the program is confidence. Greta said, "I gained the confidence to play in front of people." Iris added, "Playing the bass or singing is so personal – that's like a part of you and it's really scary to share. It's vulnerable and I did not have that at first."
Additionally, after many years in the program, the Nelsons are now able to act as models and mentors for the incoming musicians. Because of all the younger kids that perform alongside them, Greta recognizes that they do set an example for them. "After years of watching the older kids and thinking that they were so cool, now we are getting to that point," added Iris. 
The girls will age out of the program after their senior year of high school, and while neither aims to become a full-time rock star, both aspire to stay connected to School of Rock in any way they can. Greta added, "I want to keep studying music and music theory in college."
The Nelson sisters' unique passion and talent for playing rock music highlights two of Nazareth students' many talents outside of school. Watch out for the sisters when they perform songs of The Beatles in their upcoming School of Rock show this spring.