The Starbucks Reserve reviewed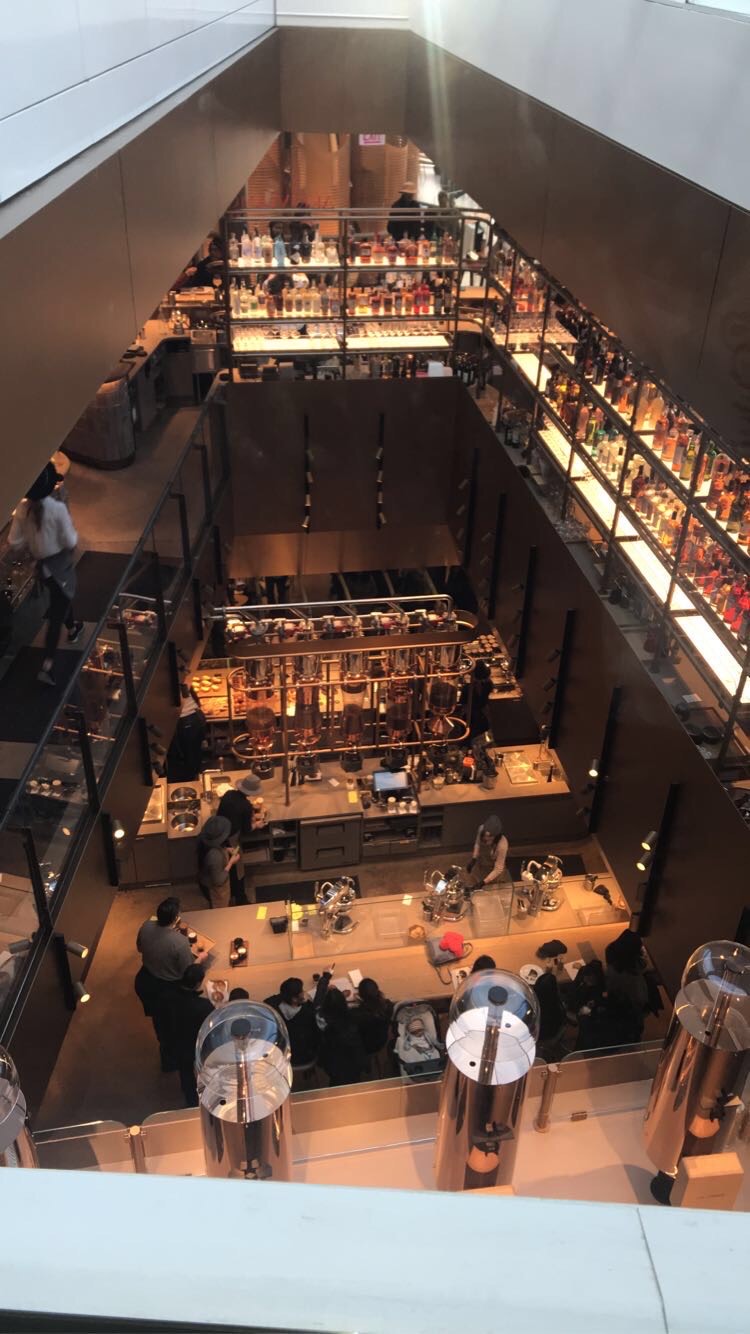 Opening its doors on November 15th, the Starbucks Reserve on Michigan Avenue in Chicago became the first Reserve and Roastery in Illinois. Boasting five stories, the Reserve caters to coffee connoisseurs and gourmet foodies alike. Differing from other Starbucks locations, the Reserve serves hand-crafted signature drinks, alongside homemade pizza, gelato, sandwiches, and pastries.
Upon arriving at the five story mega-Starbucks, we waited in line for almost 30 minutes. The line wrapped around the building and onto East Erie Street. There were constant crowds, and the line never seemed to diminish. 
Once we were let in with a group of ten other visitors, we walked into the first floor. Here, we saw many souvenirs available for purchase as well as the gigantic cask that funnels coffee beans through the multiple floors. Also located on this floor was the Reserve Coffee bar, which had handcrafted coffee and Princi pastries available for consumption. The most note-worthy object located on this floor was the curved escalator, which is the first one of its kind in the Midwest. 
After riding the curved elevator to the second floor, came upon the Princi Bakery, which had many beautiful pastries. The smell of fresh-baked brioche was amazing, and certainly provoked many to indulge. We did not try any, as they did not have any gluten-free options. We were surprised by this, as other Starbucks commonly stock gluten free items and other alternatives.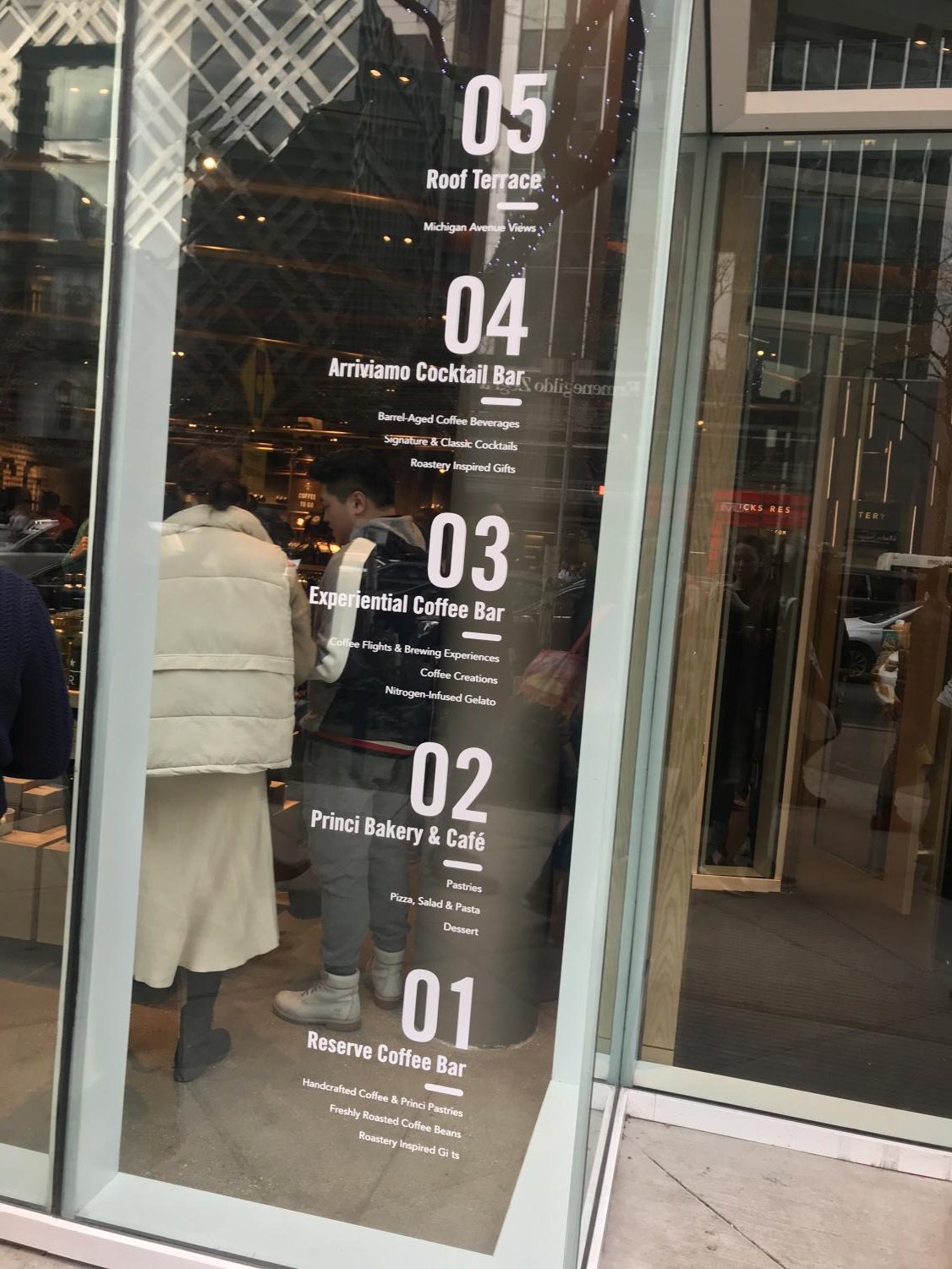 On the third floor, we joined the long line for the Experiential Coffee Bar. We finally were able to order after waiting approximately 45 minutes. After studying the extensive menu which included coffee tasting flights, drinks only available at the Reserve, and drinks featuring nitrogen-infused gelato, we ordered a Nitro Molé Mocha, Cold Brew float, Cold Brew malt, and Pistachio Bicerin. All in, the drinks totaled approximately $40, which is expensive – even for Starbucks. 
Once we ordered, the barista asked for our phone numbers in order to notify us when our drinks were ready to be picked up. This was helpful, as we used the 25 minutes to search for seating. 
Unable to find a table with chairs we improvised and found a spot to stand with our drinks when they were ready.
The Nitro Molé Mocha was very strong and lacked chocolate flavor. However, the Cold Brew float made up for the sub-par mocha, as it was creamy and perfectly sweetened. The Cold Brew Malt held a similar consistency and flavor to a coffee ice cream milkshake, as it was significantly creamier than a traditional Starbucks "Frappuccino". 
The Pistachico Bicerin consisted of hot espresso shots, and a pistachio cream on top. This drink is meant to be consumed in a shot glass with a spoon, though due to time constraints, we drank it with a straw in a to-go cup, resulting in a sub-par experience. This drink is particularly for someone who craves the flavors of pure espresso. All of the drinks that we tried were specific to the Reserve, which offered a unique and special experience. 
If you are interested in experiencing one-of-a-kind drinks, pastries and other unique menu items, the Reserve is the place for you. Coffee connoisseurs and architecture lovers alike will find something amazing to observe and drink. 
The Reserve is definitely an exclusive experience, and we encourage you to try it out.  Remember to pack your patience and enjoy the special coffee experience, close to home in Chicago.