Time stands still with Bastille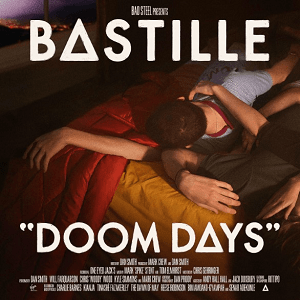 It was wild from start to finish. It was a Wednesday night and outside it was pouring rain and pitch black, but the Chicago Theatre was filled with security and fans. My family, friend and I were all waiting to get through security to see British Indie Pop band Bastille for their "Doom Days" tour. 
The opening act was Joywave, but their songs, while unique and nice to listen to, did not fit the vibe. The whole act seemed out of place. The lead singer made us all stand up to mimic what it would be like at their own concert they would be headlining a couple of months from now.
Everyone was silent and stood while the lead singer jumped and mumbled the words onstage. The performance got better later on when the performers got more comfortable onstage and the lead's mic was turned up. 
When Bastille walked on stage, everyone shot up from their seats and started cheering. My friend and I definitely were. Onstage behind them there was a screen showing a clock, a window, and a glowing red city. 
The whole purpose of their album and tour was to make it feel like you are out all night with your friends. The clock started at 12 am and ended at eight in the morning. After each song played, the clock changed, showing the time that has passed. 
Throughout the show, the lead singer, Dan Smith described what the songs meant to the band. It felt like he was talking to each and every one of us personally.
Throughout the concert, the crowd was yelling and jumping along with the band. The energy level was high and all you could see were smiles.
In the middle of the concert, Smith left stage and entered the crowd. People were all around him and trying to get some sort of interaction with him. Surprisingly, everyone was respectful and gave him some space. 
The closing song was their most popular: Pompeii. Everyone was dancing and singing along. No one wanted it to end. 
When it ended, everyone filed out quietly, almost surreally, into another world: the rain stopped, the streets were crowded, and the clock ticked on into the night.