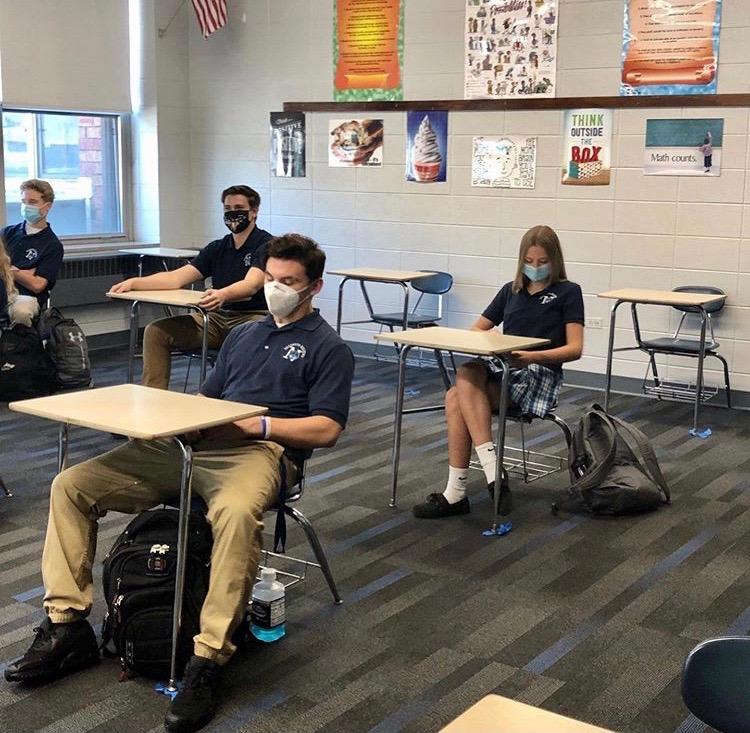 Photo by Communications Manager Alena Murguia
Last March, the world flipped upside down due to the Covid-19 pandemic. Not able to enjoy their prom, graduation, or even say goodbye to one another in the way they expected to, the virus hit the Nazareth Academy class of 2020 hard. 
Nearly six months, and the start of another school year, later the new senior class of 2021 is going through arguably worse. With fear of the virus, a new hybrid schedule, and college applications looming, some students are worried they will not get to experience a classic senior year at all.
The Nazareth hybrid schedule and many precautions in place have proved to be working at preventing cases from rising. Many seniors think administration has done a great job of tackling the situation, such as senior Jack Seastrom, "I think they are doing everything they can without cancelling school entirely. I think it is as safe as possible." 
On the other hand, many seniors are growing impatient with the virus. Senior Alejandra Garcia said, "I am growing more and more upset about not having a normal senior year, not being able to see my friends every single day, basically not having normalcy."
COVID-19 not only raises concerns about going to in-person classes, but it also poses a serious worry regarding the college application and admissions process. The question of standardized testing has been arguably the most discussed topic amongst 2021 applicants. More than 700 universities across the United States have gone to test-optional admissions, including Northwestern University, University of Chicago, Harvard, Stanford and Georgetown. 
The reason so many are making scores optional is because many testing dates have been canceled due to the pandemic. Students literally have nowhere to go to take the tests. 
For some seniors, this is great news because they now have an increased chance of getting accepted into their top schools if before they did not qualify with their score. But it also raises concerns. Many students have been worried if they do not send their score and another applicant who did well does, will their application be tossed to the side in favor of that other student? 
As the class of 2021 asks more and more questions about this unclear college application process, alumni and counselors emphasize how important it is to stay positive throughout these unprecedented times. Nazareth class of 2020 alumnus and University of Dayton freshman Lizzy Herr said, "Trust the process, you'll end up exactly where you are meant to be!"
More members of the class of 2021 are adapting to this new normal, but many are concerned about what will happen to the rest of the school year, specifically fourth quarter, the spring musical, prom, and graduation. When asked if he thought school will return to normal by second semester, Seastrom said, "No, it would be nice, but I am not getting my hopes up." 
Not getting hopes up seems to be common sentiment among the senior class. Garcia agreed, "I don't think COVID will end for another year." 
Not having a classic senior year like movies the class of 2021 grew up watching, such as "High School Musical 3: Senior Year" will be tough on this year's graduates, but the class of 2020 provides advice and words of encouragement. After their fourth quarter was cancelled when quarantine was first announced, the class of 2020 understands what 2021 grads are going through. 
Herr said, "I think the biggest difference between the class of 2020's senior year and the class of 2021's is that we had three-quarters of a normal senior year, but the whole year for the class of 2021 is going to be different. Regardless, all the class of 2021 can do is make the most out of their last year at Naz and appreciate every moment."