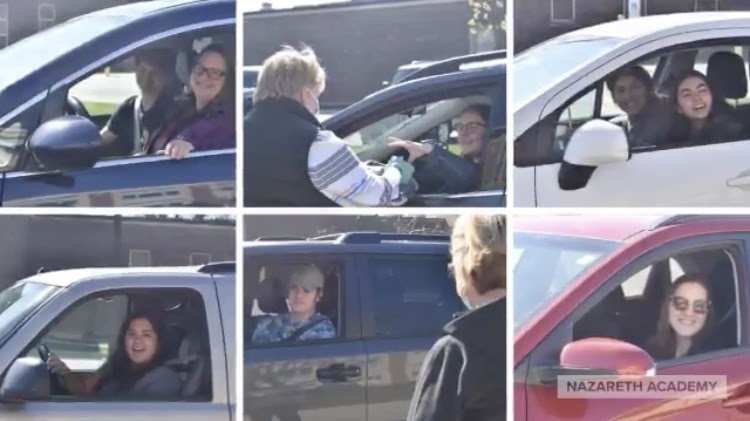 Usually at this time of year, high school juniors are receiving their SAT and ACT scores and getting ready to apply to colleges. They often spend their spring breaks going on college visits so they can narrow down their lists of potential schools.
However, this year, these experiences are different for the juniors. Many SAT and ACT testing days have been cancelled or pushed back until the fall, and instead of traveling to visit colleges in person, juniors are taking virtual tours of campuses on college websites.
Due to the postponement and cancelation of standardized tests, some universities are making test scores optional on their applications and others are even piloting programs where they will not require test scores for the next three years.
Nazareth Guidance Counselor and Director of College Advising Kevin Milos recognizes the unique challenges presented to juniors who are thinking about applying to colleges. "It makes it much more challenging for the soon to be seniors and their parents right now not being able to physically visit the campus."
Although this is not how many juniors envisioned their college search to begin, Milos suggests that students take advantage of the virtual visits and make connections with the school's representatives via email or Zoom. He also hopes that students will apply for early admission, as he believes it will give students a direct advantage.
Junior Danny Metzger, who got a perfect score on the ACT, seems most concerned about the lack of college visits. He explained, "The only thing I would have to say is that getting the real visual of a college is much more difficult now. Even with all of the research you can do on a school, nothing compares to an in person visit. I'm trying to narrow down the schools I want to apply to this upcoming year with virtual tours and website visits, but I still plan to visit campuses when they open."            
While there will definitely be adjustments regarding the summer programs offered by the guidance department, Guidance Counselor Melissa Byram seems confident that the efficiency and effectiveness of the programs will remain intact.
She explained, "The college advising team is doing our best to stay up to date with the ever changing news from colleges at this time and keeping our families updated through the Guidance Newsletter. Our goal is to keep all programming as consistent as possible with previous years, with slight modifications as needed due to the pandemic."
Counselors plan to move forward with scheduled meetings with juniors and their parents over the summer. Byram says the logistics of those meetings will depend on the state's orders. "If the shelter-in-place order remains in place over the summer, we will meet virtually with junior families. If the order is lifted, we will then have face-to-face meetings.
Similarly, we will continue our plans with the writing workshop to help students with their college essays. This will likely be virtual, but the college reps will still be in attendance to provide feedback and give advice."
The juniors themselves are really struggling with the adjustments involving their social lives, as well as their college application plans. Kelsey Beringer says, "I have been able to stay in touch with friends through FaceTime
and text messaging. Although it's not the same as being in the same room with them, it's nice to keep in touch. My friends and I have also been playing games online together so I'm super grateful for technology during the pandemic."
ThienMy Nguyen echoes her sentiment, "My academic and social lives have definitely changed as a result of the pandemic. Now I feel more isolated from the world even with social media and being stuck inside my house with my family. Now, I have a lot more free time for myself. I do stay in touch with my friends through texting and FaceTime but I also feel disconnected since we do not see each other face-to-face."
While many events were cancelled or postponed, the juniors and members of the faculty and staff made the best of the junior ring distribution. While it was unfortunate that traditional aspects of the ceremony were postponed, juniors were still able to pick up their rings from Ms. Hawkins, Ms. Tracy and Ms. Paliatka, and many juniors were still able to see their friends through their car windows.