Nick Strobl, a welcome addition to the math department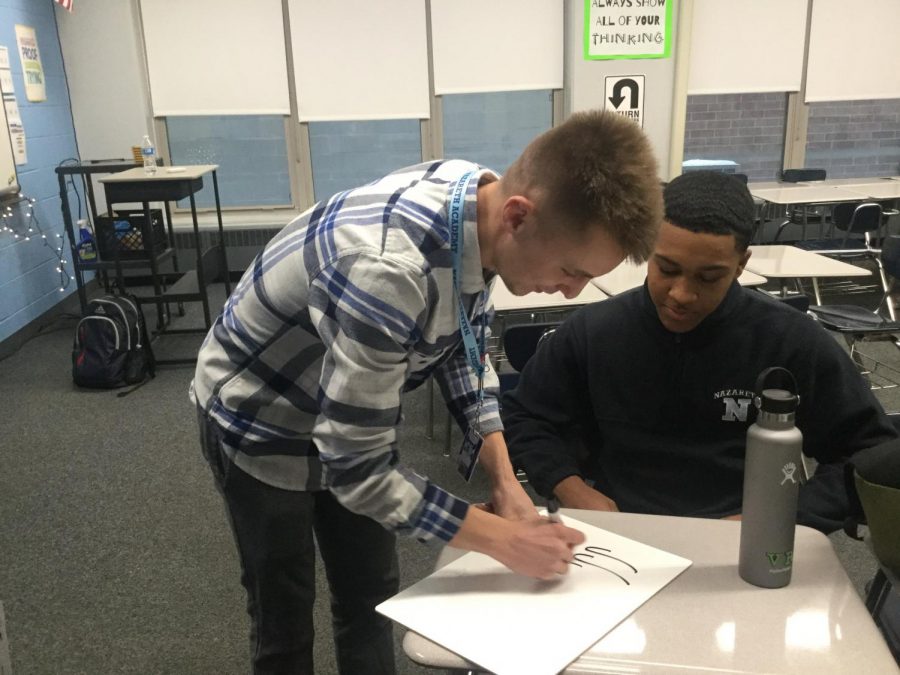 When longtime math teacher Lorraine Weber retired at the end of the first quarter, the math department hired Nick Strobl to take over her classes. Strobl's current class load includes Geometry Honors and Trigonometry, and he also taught Intro to Statistics last semester.
No stranger to the western suburbs, Strobl attended nearby Westmont High School where he played soccer and later he attended and graduated from the University of Illinois Urbana Champaign earning degrees in Actuarial Science and Secondary Education.
Strobl comes to the Nazareth family having recently completed his student teaching at Downers Grove South. 
Strobl is not the kind of person who would be satisfied working a desk job, so his decision to apply his love of math to the field of education was easy.  "I was not interested in sitting at a desk all day; I would rather interact with people and be active doing what I like to do," said Strobl.

Collaborating with members of the math department has been a highlight for Strobl. He said, "I really enjoy the collaboration that we have in the math department, and also, everyone is super, super nice! I also think it is extremely rewarding to work with people with years of teaching experience because that helps me become a better teacher as they give me new ideas and tips all the time!" 
As a first year teacher, Strobl sees his age as one of his strengths on the job. "I am a younger teacher; I believe that fact helps me relate and connect with students more while I'm teaching."
Sophomore Sam Odeh appreciates the youthful perspective that Strobl brings to class. "I enjoy having Mr. Strobl as a teacher because he speaks our language and is able to explain things in a way that you can really understand it." Odeh goes on to say, "He's one of those teachers that will go above and beyond for you if you ask a question. He actually over explains something so that each kid understands it."