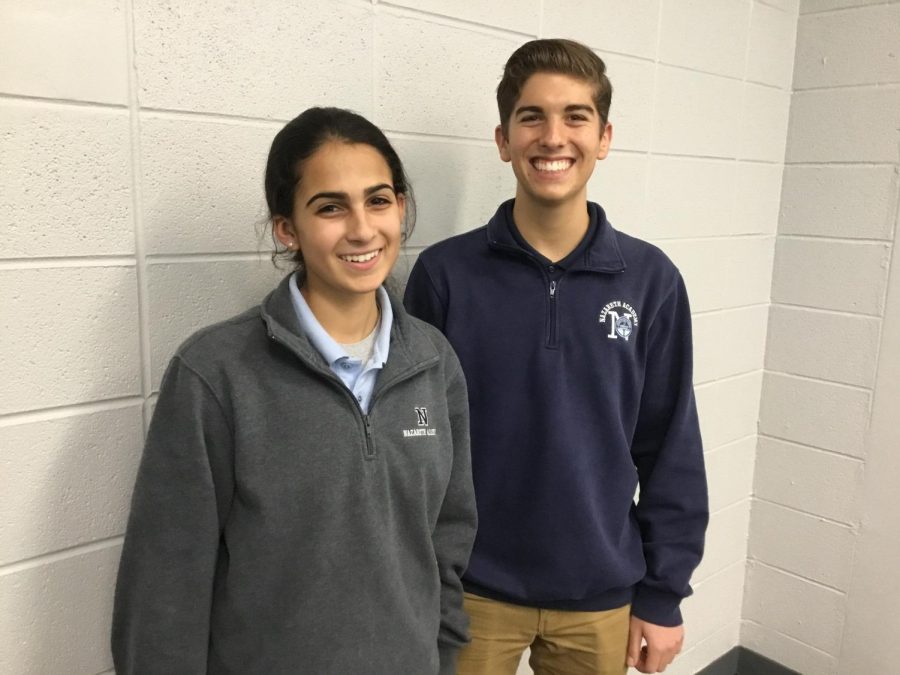 photo by Marin Worley
New to Nazareth this year is the Future Healthcare Professionals Club (FHP). Founded by Senior Luke Baumel and moderated by Mrs. Miller, FHP hopes to educate students about all aspects of the professional medical field.
FHP has an executive board, including Luke Baumel as president, Fiona Roach working Special Events, Mia Baumel in Marketing, Gianna Imbarrato in Finance, and Chloe Michel and Matthew Babik in Public Relations.
Baumel shares that he created this club after reigniting his love for healthcare by taking Honors Biology. He noticed that there was no opportunity at Nazareth for him to share this passion, and so he proposed to start the Future Healthcare Professionals Club. Miller says that there was a large amount of interest in a healthcare focused club by many students at Naz. 
Before the meeting takes place, Baumel and Miller meet to discuss possible topics. Baumel then researches articles to further enhance group discussion. Junior Payton Seo is a member of the club and is excited by the new information that she's getting. "FHP gives me the opportunity to learn more about issues and discoveries in the current medical field by reading articles once a month." 
Club member, Junior Fiona Roach also finds the articles important. "The articles allow for us to deepen our understanding of each topic," says Roach.
Throughout the semester there are guest speakers. The club aims to have seven speakers per semester, totaling 14 for the year. Each speaker offers a unique perspective, allowing the club members to learn different backgrounds and experiences pertaining to the medical field. For example on Veterans Day, Captain Paul Roach, MD, shared insight about being a trauma surgeon in the U.S. Army. 
Also, club members listen to first-hand insight from current medical school students and are taught tips for applying and getting accepted into medical school. 
Club attendance is huge: Upwards of 80 students have become members and attend meetings. Baumel shares, "Students seem very excited and engaged and happy to have the opportunities that the club is providing them."
Junior Gianna Imbarrato has enjoyed being both a member of this club and in charge of finance as she shares, "FHP has been such a great opportunity for me to learn more about aspects of medicine that I had never known about before. I love seeing different ways medicine is impactful to society, and the club has helped me find ways to start planning my future!"
In the second semester, FHP strives to incorporate more service into their club activities. Miller shares that she hopes the club will provide opportunities for club members to give back to the community. She is looking into various programs that will enhance both the community and the learning of each club member. FHP also hopes to provide opportunities for club members to become CPR certified.
Baumel shares that he is looking forward to inviting more guest speakers and planning a field trip or two to give members hands-on experience.