Young artists love what they do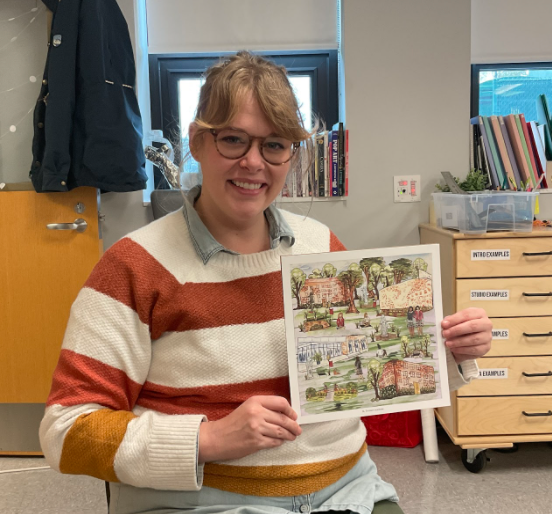 According to a recent Gallup Poll, only 48% of adults surveyed said they were completely satisfied with their jobs. This could be because most people aren't actually doing what they love to do. The idea of doing something you love in life is ideal, and some young and talented Naz student artists agree – they plan to incorporate their artistic passions into their future whether it is a hobby or a career.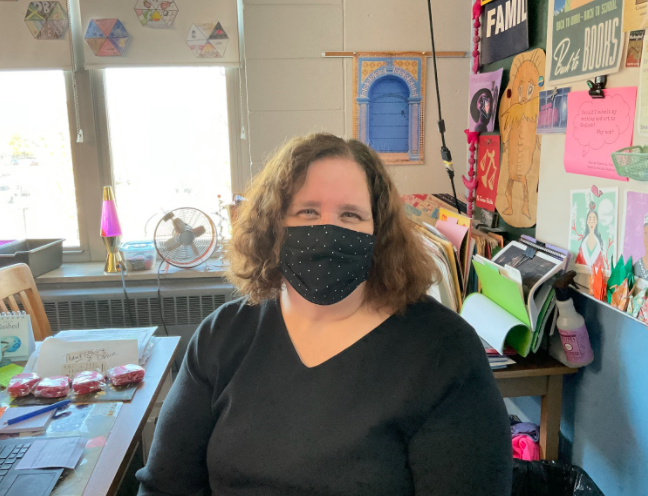 English teacher and department head Jeanne Paliatka is a strong supporter of young artists. Paliatka believes that the key to being a successful writer is to practice the craft. "Write all the time – as much as possible," she said. Paliatka wants to see students succeed in their future careers especially if it's in a field they love.
Paliatka is also the moderator for Nazareth's literary magazine Goulash which has been in existence at Nazareth for more than 25 years. Through the magazine, Paliatka encourages students to share their writing and artwork in order to experience the feeling of being published. She encourages students to use Goulash as a way to get their work out there.
Junior Amber Constante, a Goulash contributor, is an ambitious young writer who enjoys creatively writing about emotions. Constante has been writing for five years and has been influenced by writers like Charles Dickens and Victoria Aveyard.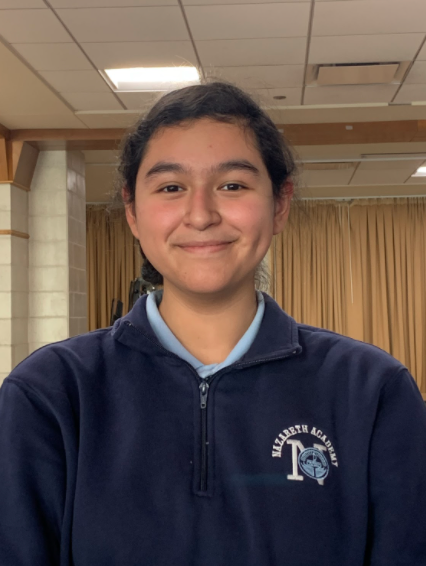 While Constante loves to write she, like many others, sometimes struggles with finding inspiration. This doesn't keep Constante from writing though. "It's a way I cope… especially since I write about emotion, it's how I get my stress out," Constante said. 
Constante has lately been working on the first draft of her fantasy novel and continues to write for Goulash. Although she doesn't plan to write as a career she can see herself writing in the future as a hobby.
Art teacher and Fine Arts department chair and artist Kelly Pack really cares about her students' growth as artists. "There is no such thing as bad art," Pack said. Pack finds it especially interesting to see the variety of art produced by her students. She says it shows how unique they all are.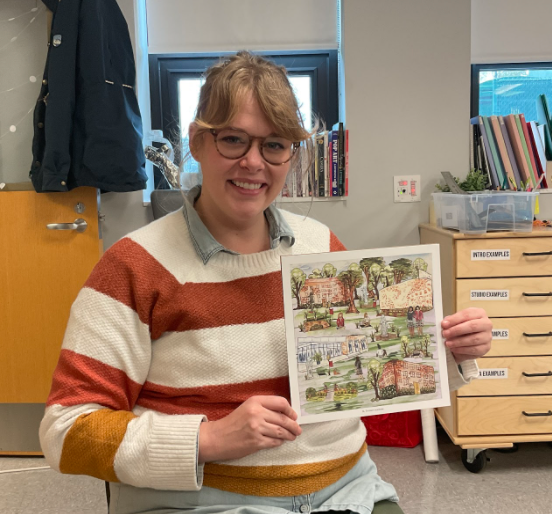 Pack is excited to bring back Art Club, a great resource for young artists to work on their art skills and gain new opportunities. They will also be able to meet other young artists and get more practice on their skills. 
Sophomore Raphaella Griffin has been surrounded by art her whole life, from the murals around her neighborhood to the work of fellow artists. Griffin enjoys using vibrant paint colors with her work; she likes to be unique.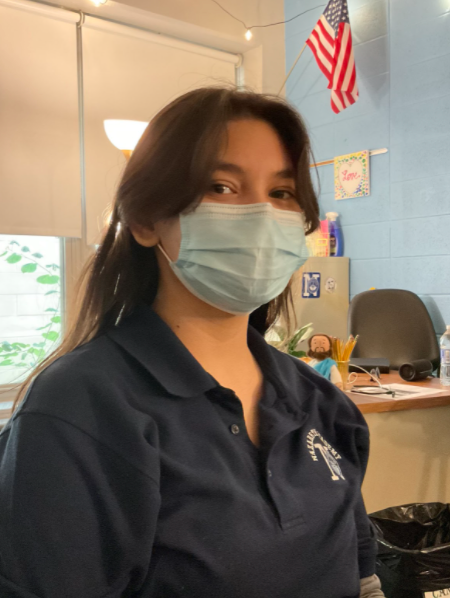 Since Griffin has begun her art journey, she has realized the importance of creativity and the impact it has had on her life. "My creativity is kind of what keeps me going, but then if I don't have that creativity or the motivation to be creative, I just don't have anything really and it can be just a huge downfall in how I feel," Griffin said. 
She believes that with creativity, life is just better and a person has more motivation. Griffin definitely can see herself pursuing a career in art and she can see that it would make her happy in the future.
Sophomore Ava Bucur is a talented young actress who has been acting for seven years. Bucur has absolutely no doubt that she will act in the future if the opportunity comes. "Acting is too important to me to stop doing it," Bucur said. She loves the idea of her name being out there and being recognized for her talents.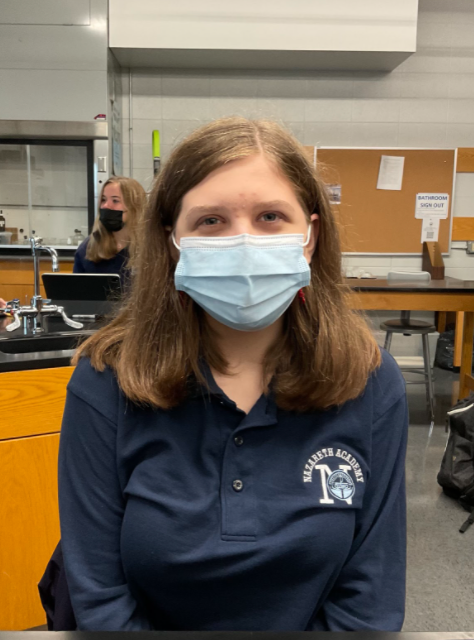 Although the field of acting can be competitive, Bucur focuses on the work she loves. She loved being in Nazareth's fall play Clue. Bucur looks forward to Nazareth's next play and to the new experiences it will bring. 
Junior Gerald Roberson plays the euphonium in Nazareth's band. Roberson has been playing music since kindergarten – back then he only played the piano, but he switched to the euphonium in fourth grade.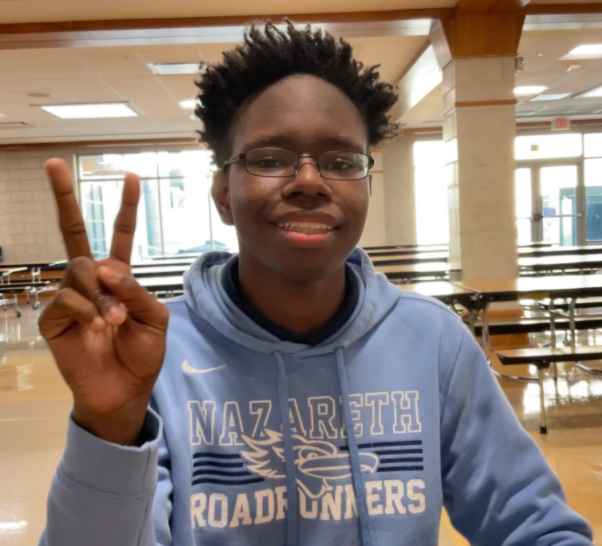 Roberson says that the nice part of being in Nazareth's band is getting to meet new people. "I met a lot of new people in band, which is always nice," he said. Roberson has made some great friends because of his passion for music.
Although Roberson hasn't exactly decided if he wants to continue playing in a college band in the future, he is definitely sure that he will continue to play as a hobby. Roberson's love for music is what motivates him to continue playing.
All of these students have one thing in common and it's their love for their artistic passion. They are positive that they will continue to do what they love and that's what matters, whether it be their career or even a hobby.